Event Home
03/03/2023 11:00 AM
Online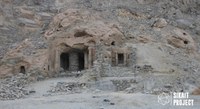 Emeralds from the Desert:
Challenges, Issues, and Successes of Emerald Mining in the Egyptian Eastern Desert in the Roman and Byzantine Periods
Joan Oller Guzmán
This lecture will take place online. Registration is required; click through for the registration link. Zoom information will be provided via confirmation email to registered participants. This presentation will offer an overview of the work conducted by the Sikait Project in the Wadi el Gemal National Park (Eastern Desert of Egypt) between the years 2018 and 2023. During five seasons, this project has tried to get a better understanding about how the mineral of beryl was extracted and traded.
RSVP