Event Home
03/23/2023 05:00 PM
Online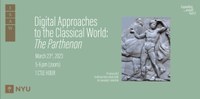 Expanding the Ancient World Workshop:
Digital Approaches to the Classical World: The Parthenon
Organized by the Institute for the Study of the Ancient World
This workshop will take place online. Registration is required; click through for the registration link. Zoom information will be provided via confirmation email to registered participants. Expanding the Ancient World is a series of professional development workshops and online resources for teachers. This workshop introduces approaches to the utilization of 3D architectural models within the classroom, using the Parthenon and its sculpture as a case study to highlight the role that this building served in the creation and reinforcement of Classical Athenian communal identity.
RSVP