Event Home
02/22/2023 01:00 PM
Online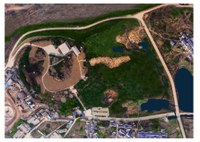 RESCHEDULED: Mining Community in the Longue Durée:
A Case Study of the Southeastern Hubei Mining Area in China, ca. 3 to 1 Millennium BCE
Dongming Wu
NOTE: This lecture was originally scheduled for 1/25/23. Due to unforeseen circumstances the lecture has been postponed. The new date for the lecture is 2/22/23. The lecture will take place online. Registration is required; click through for the registration link. Zoom information will be provided via confirmation email to registered participants. The southeastern Hubei mining area was a major source of copper, lead, and tin, the primary elements of bronze alloy in Bronze-Age China. Chinese archaeologists and archaeometallurgists have impressively reconstructed the chaînes opératoires of miners and metalworkers, however, there have been few attempts to investigate the lives of miners and the mining community.
RSVP