Event Home
04/26/2021 01:00 PM
Online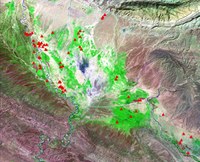 Analysis of Land, Water, and Settlement Through Remote Sensing and Ground Survey:
Case Studies from Zagros-Mesopotamia
Mitra Panahipour
This lecture will take place online. Registration is required; click through for the registration link. Zoom information will be provided via confirmation email to registered participants. Understanding dynamic interactions between past populations and their lands has been one of the primary goals of archaeological studies. In this regard, detecting different settlement systems such as sedentary and mobile patterns, and diverse land-use practices in light of socioeconomic demands and environmental conditions can clarify broader issues of resource management, sustainability, and longer-term landscape changes.
RSVP