Event Home
12/09/2021 01:00 PM
Online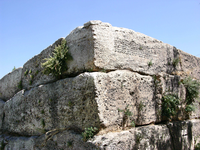 "Translating Culture":
Sardur I's Neo-Assyrian Inscription on the Sardursburg in Ancient Tushpa, Urartu
Beate Pongratz-Leisten
This lecture will take place online. Registration is required; click through for the registration link. Zoom information will be provided via confirmation email to registered participants. Within the framework of ISAW's mission statement, which considers the ancient world as an interconnected place, this talk investigates scholarly approaches to intercultural contact. Focusing on what in recent times has been categorized as "translating culture" it takes the Urartian adoption of cuneiform writing as a case study and unravels the cognitive and cultural implications of Sardur I's adoption of Neo-Assyrian script and language on the walls of the so-called Fortress of Sardur at ancient Tushpa on the shores of Lake Van.
RSVP