Event Home
10/24/2019 06:00 PM
ISAW Lecture Hall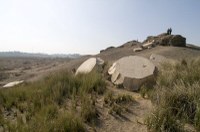 ARCE Lecture: The Mystery of the "White Walls":
The New Discoveries at Memphis
Galina Belova
The Russian Academy of Sciences recently established in Egypt an institution for studying the ancient history of Egypt – the Institute of Egyptology of the Russian Academy of Sciences. The Institute was allowed to select a monument among those not yet investigated. The Institute selected the site of the Palace Apries on Kom Tuman.
RSVP