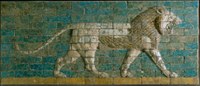 Reconstructed panel of bricks with a striding lion Neo-Babylonian Period; Processional Way, El-Kasr Mound, Babylon, Iraq; CC0 1.0 Image courtesy of The Metropolitan Museum of Art
Persian Glazed Architecture in Babylon and Beyond: New Discoveries and Interpretations
Exhibitions Panel Discussion
Alexander Nagel
Fashion Institute of Technology
*Please note registration for this event will open on November 12th
Though Babylon's Ishtar Gate and the Processional Way are certainly the most imposing and prominent features once welcoming visitors to the city by the Euphrates, elaborately glazed brick facades adorned monumental structures at sites such as Borsippa, Susa, Persepolis and beyond. How were these glazed brick facades constructed? How were production technologies transmitted across the vast distances between these sites? How can modern technologies advance our knowledge about the production process and original appearance of these facades? This conversation will introduce new discoveries and recent research related to the production technologies around the facades highlighting our current understanding of production organization and process, iconography and legacy of the grand and fascinating glazed architectures of the ancient world.
Dr. Alexander Nagel is Assistant Professor of Art History at the State University's Fashion Institute of Technology and a Research Associate with the Smithsonian Institution in Washington, D.C. Since 2006, Nagel has been working on the original polychromy of Achaemenid Persian Palace Architecture in Iran. In Washington, D.C., he has curated exhibitions related to the arts of ancient Babylon, Persia, Kazakhstan and Yemen. 
This lecture is given in conjunction with ISAW's exhibition A Wonder to Behold: The Power of Craftsmanship and the Creation of Babylon's Ishtar Gate. This exhibition along with its associated catalogue and programming are made possible by generous support from the Selz Foundation, The Achelis and Bodman Foundation, and the Leon Levy Foundation. Additional funding provided by the Dennis and Diane Bennett Charitable Trust, Elizabeth Bartman, and Karen S. Rubinson.
Registration is required at isaw.nyu.edu/rsvp 
Admission to lecture closes 10 minutes after scheduled start time.  
Please check isaw.nyu.edu for event updates.
ISAW is committed to providing a positive and educational experience for all guests and participants who attend our public programming. We ask that all attendees follow the guidelines listed in our community standards policy.