Register for ISAW Events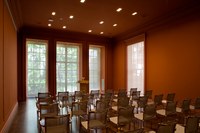 To register for an ISAW event, please click on the corresponding link below and enter your contact information in the form. You will receive a confirmation email shortly after your registration is submitted.
Thursday, December 1 - Exhibitions Lecture: Weeks, Months, and Years in Greek and Roman Calendars
Daryn Lehoux, Queen's University 
Thursday, January 26 - Exhibitions Lecture: Geographical Portable Sundials; Reliable Instruments or Roman Fashion Statements?
Richard Talbert, University of North Carolina
Thursday, February 2 - ARCE Lecture: Enigmatic Sites and Headless Nubians: Exploring the Eastern Desert of Late Roman Egypt
Colleen M. Darnell, University of Hartford, Central Connecticut State University, and Naugatuck Valley Community College

Monday, February 27 - Cosmos, East and West: Astral Sciences in South and East Asia and Their Interaction with the Greco-Roman World
9:30am - 5:00pm
Conference organized by Bill M. Mak (ISAW Visiting Research Scholar) and Lillian Tseng (ISAW)

Monday, February 27 - Exhibitions Lecture: Time and Cosmos in Greco-Roman Astrology
Stephan Heilen, University of Osnabruck 
Monday, March 13 - Guggenheim Social Practice Art Initiative: The Vibe
3:00pm
Pre-recorded 30 min episode of the popular culture show 'The Vibe'. There are three young women who host and the show segments cycle through topics including technology, fitness, beauty, fashion, conspiracy theories, and comedy. Graduate Student Irene Soto will discuss fashion and beauty in the ancient world. 
Wednesday, March 15 - Guggenheim Social Practice Art Initiative:  JUS Galbaat
2:45pm
Live broadcast of JUS Galbaat, a daytime show geared towards middle age and older women. The host, who has a psychology background, addresses a variety of issues relevant to daytime viewers and answers on-air questions.
This one hour live broadcast would begin at 3:00PM with David Ratzan discussing the importance of studying the ancient world and explain the relevance of historical context to contemporary thought. The show would then discuss the work of Visiting Research Scholar Robert Spengler, which focuses on food culture and its scientific and social impact on societies.  Graduate Student Alireza Khounani will discuss his areas of academic interest and his experience at ISAW. His PhD studies focus on the socio-economic and political role of sedentary and pastoralist societies in Iran and western Central Asia during the Seleucid and Parthian Periods. 
The Eighth Annual M.I. Rostovtzeff Lecture Series
Egyptian versus Greek in Late Antique Egypt: The Struggle of Coptic for an Official Status
Jean-Luc Fournet, Professor, Collège de France, Paris 
Wednesday, March 22 - Rostovtzeff Lecture I:  An Egyptian Exception?
Wednesday, March 29 - Rostovtzeff Lecture II: Why Greek was Preferred to Coptic?
Wednesday, April 5 -  Rostovtzeff Lecture III: The Rise of Legal Coptic and the Byzantine State
Wednesday, April 12 -  Rostovtzeff Lecture IV: The Role of the Church in the Growth of Legal Coptic
Thursday, April 6 - Exhibitions Lecture: A Portable Cosmos: The Antikythera Mechanism
Alexander Jones, ISAW 
Please note: This lecture is currently at capacity and we are no longer accepting names for the wait list.
Friday, April 21 - Exhibitions Lecture: Excavating the Ancient City of Tenea
Eleni Korka, General Directorate of Antiquities in the Ministry of Culture and Sports, Athens 
Trish Coletto, Gebel el Silsila Project