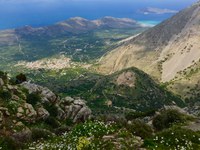 The ancient settlement at Azoria, above the modern village of Kavousi, in east Crete; Photo by Dominic Pollard.
From the Ground Up:
Questions of Subsistence, Demography and Social Structure in Late Bronze Age and Early Iron Age Crete
Dominic Pollard
ISAW Visiting Assistant Professor
This lecture will take place online; a Zoom link will be provided via email to registered participants.
Registration is required at THIS LINK.
The period between c.1450 and 550 BCE on Crete was one of major social, political, and economic change, including the final phase – and ultimate collapse – of the Bronze Age palatial tradition, and the gradual emergence of the island's earliest poleis or city-states. This lecture offers a novel perspective on these historical processes by foregrounding the fundamental pressures and opportunities of the Cretan landscape, and the agricultural foundations on which the societies of the Late Bronze Age and Early Iron Age were built. It is argued that a nuanced understanding of historical changes at this time can be approached by considering oscillations and developments in what may appear to be more perennial or cyclical features of ancient Cretan society, such as modes of subsistence, demographic pressures, and forms of interaction connecting communities over multiple scales.
Dominic Pollard is a Visiting Assistant Professor at the Institute for the Study of the Ancient World. He holds a BA in Archaeology and Anthropology from the University of Oxford (2015), and an MA in Mediterranean Archaeology from University College London (2017), where he also received his PhD (2022). His work is particularly concerned with the relationships between human societies and the landscapes they inhabit, as well as the forms of mobility and interaction which connect communities across different regions. He has conducted fieldwork in England, Italy and Greece.
Please check isaw.nyu.edu for event updates.
ISAW is committed to providing a positive and educational experience for all guests and participants who attend our public programming. We ask that all attendees follow the guidelines listed in our community standards policy.