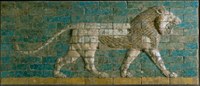 Reconstructed panel of bricks with a striding lion Neo-Babylonian Period; Processional Way, El-Kasr Mound, Babylon, Iraq; CC0 1.0 Image courtesy of The Metropolitan Museum of Art
Exhibition Gallery Talk: Modern Glass and Ancient Middle Eastern Craftsmanship
Amy Lemaire
Glass Art Society and American Scientific Glassblowing Society
*Registration for this event will open on January 6th, one month before the event
Amy Lemaire is a multi-disciplinary artist and educator based in Brooklyn, NY. An explorer at heart, her work reveals an interest in currency systems, material language poetics, and the production of histories. She studied at Pratt Institute (MFA) and the School of the Art Institute of Chicago (BFA). Lemaire has taught at UrbanGlass (NYC), Pilchuck Glass School (WA), Salem Community College (NJ), and Penland School and Crafts (NC) and shown her work at SOFA New York, SOFA Chicago, Bijoux at the Norton Museum (FL). Lemaire has completed residencies at UrbanGlass (NY), the Brooklyn Navy Yard (NY), the Museum of Arts and Design (NY) and WheatonArts (NJ), and received a Visionary Scholarship from the AACG in 2015.
This gallery talk is given in conjunction with ISAW's exhibition A Wonder to Behold: Craftsmanship and the Creation of Babylon's Ishtar Gate. This exhibition along with its associated catalogue and programming are made possible by generous support from the Selz Foundation, The Achelis and Bodman Foundation, and the Leon Levy Foundation. Additional funding provided by the Dennis and Diane Bennett Charitable Trust, Elizabeth Bartman, and Karen S. Rubinson.
Registration is required at isaw.nyu.edu/rsvp
Admission to lecture closes 10 minutes after scheduled start time.  
Please check isaw.nyu.edu for event updates.
ISAW is committed to providing a positive and educational experience for all guests and participants who attend our public programming. We ask that all attendees follow the guidelines listed in our community standards policy.