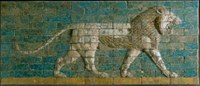 Reconstructed panel of bricks with a striding lion Neo-Babylonian Period; Processional Way, El-Kasr Mound, Babylon, Iraq; CC0 1.0 Image courtesy of The Metropolitan Museum of Art
Exhibition Gallery Talk: Modern Ceramics and Ancient Middle Eastern Craftsmanship
Robert Silverman
92Y Ceramic Center Director
Robert Silverman is the Director of the Ceramic Center at the 92nd Street Y. Originally trained as a social geographer, Mr. Silverman began his career as a ceramic artist over 25 years ago while studying in Japan where exposure to beautiful handmade objects used in daily life inspired him to pursue a career in the arts. He has exhibited internationally and his work has been included in shows at The Museum of Art and Design, New York, the European Ceramic Work Center in the Netherlands, the Mint Museum in North Carolina and the Ramada Renaissance Hotel Corporation in Connecticut, among others. Mr. Silverman was the co-chair of the graduate ceramics program at Louisiana State University, he has also taught at Arizona State University and the Massachusetts College of Art. He has been awarded a variety of grants and fellowships and his work has been included in gallery and museum shows across the US and in magazines such as Ceramics Monthly, American Craft Magazine and Studio Potter Magazine, as well as in the books The Craft and Art of Clay (Susan Peterson, Prentice Hall, 2004) and Post Modern Ceramics (Mark Del Vecchio, Thames and Hudson, 2001). Robert Silverman holds a B.A. in Social Geography from Clark University, a B.F.A. from the Kansas City Art Institute and an M.F.A from Alfred University.
This gallery talk is given in conjunction with ISAW's exhibition A Wonder to Behold: The Power of Craftsmanship and the Creation of Babylon's Ishtar Gate. This exhibition along with its associated catalogue and programming are made possible by generous support from the Selz Foundation, The Achelis and Bodman Foundation, and the Leon Levy Foundation. Additional funding provided by the Dennis and Diane Bennett Charitable Trust, Elizabeth Bartman, and Karen S. Rubinson.
Registration is required at isaw.nyu.edu/rsvp
Admission to lecture closes 10 minutes after scheduled start time.  
Please check isaw.nyu.edu for event updates.
ISAW is committed to providing a positive and educational experience for all guests and participants who attend our public programming. We ask that all attendees follow the guidelines listed in our community standards policy.