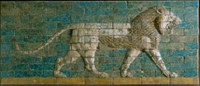 Reconstructed panel of bricks with a striding lion Neo-Babylonian Period; Processional Way, El-Kasr Mound, Babylon, Iraq; CC0 1.0 Image courtesy of The Metropolitan Museum of Art
Babylon Before Excavation
Michael Seymour
The Metropolitan Museum of Art
Large-scale excavations conducted by the Deutsche Orient-Gesellschaft between 1899 and 1917 still form the basis of our archaeological understanding of the city of Babylon. The Ishtar Gate, a major focus of the excavations and later reconstructed in Berlin, came to symbolize the new discoveries and their transformative impact. However, the archaeological project took place against the backdrop not only of earlier descriptions, surveys, and even excavations, but also a far longer history of biblical and classical traditions that shaped perceptions of the site. This lecture will explore the place of the site of Babylon in scholarship and the public imagination in the years leading up to the German excavations, and the cultural context within which the project came into being. 
Michael Seymour is the Assistant Curator of the Department of Ancient Near Eastern Art at The Metropolitan Museum of Art. He completed his PhD at University College London, and subsequently worked for the British Museum in the Department of the Middle East. He joined The Met in 2011. His research focuses on the reception and representation of the ancient Near East, particularly Babylon, and on Mesopotamian art of the first millennium B.C. 
This lecture is given in conjunction with ISAW's exhibition A Wonder to Behold: Craftsmanship and the Creation of Babylon's Ishtar Gate. This exhibition along with its associated catalogue and programming are made possible by generous support from the Selz Foundation, The Achelis and Bodman Foundation, and the Leon Levy Foundation. Additional funding provided by the Dennis and Diane Bennett Charitable Trust, Elizabeth Bartman, and Karen S. Rubinson.
Registration is required at isaw.nyu.edu/rsvp
Admission to lecture closes 10 minutes after scheduled start time.  
Please check isaw.nyu.edu for event updates.
ISAW is committed to providing a positive and educational experience for all guests and participants who attend our public programming. We ask that all attendees follow the guidelines listed in our community standards policy.