"Restoring the Minoans" Reviewed in the New York Times
In today's edition of the New York Times, Jason Farago reviews our exhibition Restoring the Minoans: Elizabeth Price and Sir Arthur Evans, which "explores the slippages of archaeology and how easily we project present-day expectations onto the mystery of the past" through presenting artifacts from Minoan Crete and archival materials from the Evans Archive, with Elizabeth Price's installation.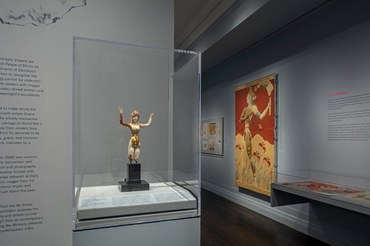 The first gallery of artifacts and materials showcase how much liberty was taken in Evans' reconstruction at Knossos, particularly how the "watercolors of Cretan friezes by artists in Evans's employ have an Art Nouveau ornamentation more appropriate to London's Liberty department store." Farago remarks, "As the Getty curator Kenneth Lapatin writes in an illuminating catalog essay, forgers in Crete knew how to satisfy Evans's expectations. The site being excavated was to conform to his dreams of a pacifist, matriarchal, free-spirited civilization, nothing like the Europe outside tumbling into world war."
Installation view at the Institute for the Study of the Ancient World includes "Statuette of a Minoan Goddess (Our Lady of the Sports)," probably from the early 20th century. Credit: Andrea Brizzi/Institute for the Study of the Ancient World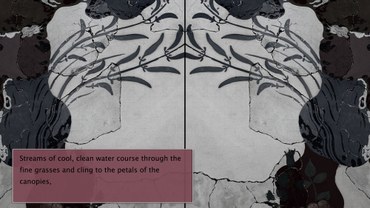 Farago says of Elizabeth Price's installation, "Ms. Price has created an imaginative and hard-charging work of art, alive with ideas and sympathetic to the blind spots of figures of the past... In Ms. Price's case, the resourceful conceit is that she puts a third term between antiquity and the present: the visions of Evans, and of a generation of archaeologists who made up for in desire what they lacked in rigor. The new Knossos being assembled from files in the cloud is no more true or false than the frescoes, watercolors, sketches and bogus artifacts that Evans's team brought back to Britain. The past is always a work in progress, whether in watercolor or on a hard drive."
A still from Elizabeth Price's video installation "A Restoration." Credit: Elizabeth Price
 Read the New York Times review here and come for a visit of Restoring the Minoans: Elizabeth Price and Sir Arthur Evans, before it closes on January 7th! The exhibition is open Wednesday - Sunday, 11am - 6pm, with extended hours on Fridays until 8pm. Holiday hours: closed 12/24, 12/25, 12/31, and 1/1.