ISAW's Expanded Publications Program
Scholarly communications and academic publishing are in a period of transition. (Of course, what in our society these days is not?) Scholars have more choice than ever before with respect to how and where to publish their scholarship. Indeed, what counts as a "publication" is evolving and expanding to include blogs, data visualizations, tweets, podcasts and various kinds of micro-contributions to large-scale, multi-user digital resources and corpora. This freedom of format, medium, and venue coincides with a movement to liberate scholarship (much of it funded at public expense) from restrictive licenses and paywalls. And so, institutional publishers of all sorts--large for-profit enterprises and university presses--are scrambling to rethink their business models both in order to incorporate these new forms of scholarly communications and to respond to the growing calls for open access. ISAW's publishing program has embraced both fronts of this revolution, exploring and pushing the boundaries of publication and working to make the scholarship it publishes as widely available as possible at the lowest cost. At the same time, we have also continued in our tradition of producing not only useful books, but also, whenever it makes sense to do so, beautiful ones. All of the books described below can be purchased online through the links provided and some can be found in the online ISAW Gallery Store.
ISAW has for several years now partnered with the NYU Press to publish "authoritative studies of new evidence and research into the texts, archaeology, art history, material culture, and history of the cultures and periods representing the core areas of study at NYU's Institute for the Study of the Ancient World." In late 2019 we rebranded what begun a decade ago as a publishing experiment as a distinct series, ISAW Monographs.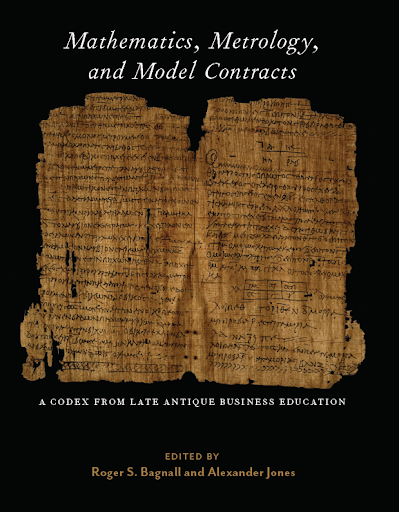 Figure 1: Cover of Mathematics, Metrology, and Model Contractsi Between 2012 and 2019, ISAW/NYU published eight volumes, all of which were produced in print-on-demand formats. Since January 2020 we have published two, three are in advanced stages of production, and another four manuscripts are in various stages of preparation. We have not only increased production, but we have also begun to explore ways to diversify the subjects and the formats that we publish. The first volume published in 2020, Mathematics, Metrology, and Model Contracts, edited by Profs. Roger Bagnall and Alexander Jones, is a perfect example. This is an absolutely beautiful hardback scholarly edition of a late antique codex, which had been a sort of training textbook for business agents. This codex lived an unexpected, second pedagogical life as the subject of an ISAW graduate seminar in 2010, of which Mathematics, Metrology, and Model Contracts is the final product. Given that the subject matter is of interest to several intersecting scholarly communities (notably the history of mathematics and science, the history of education, ancient economic history, etc.) and that the images of the codex are themselves arresting, we partnered with the NYU Press to produce a traditional hardback edition, and use this publication to anchor ISAW's first exhibition as a publisher at a major scholarly meeting, the Joint Annual Meeting of the Society for Classical Studies and Archaeological Institute of America in Washington, D.C. last January.
Beauty, of course, comes at a price. Thus, as part of ISAW's commitment to education and open access to information about the ancient world, we also work to make the scholarship we publish available online at no cost. (NYU Press sells and licenses ebook versions of ISAW Monographs, but allows us to publish them online for free in our own proprietary formatting.)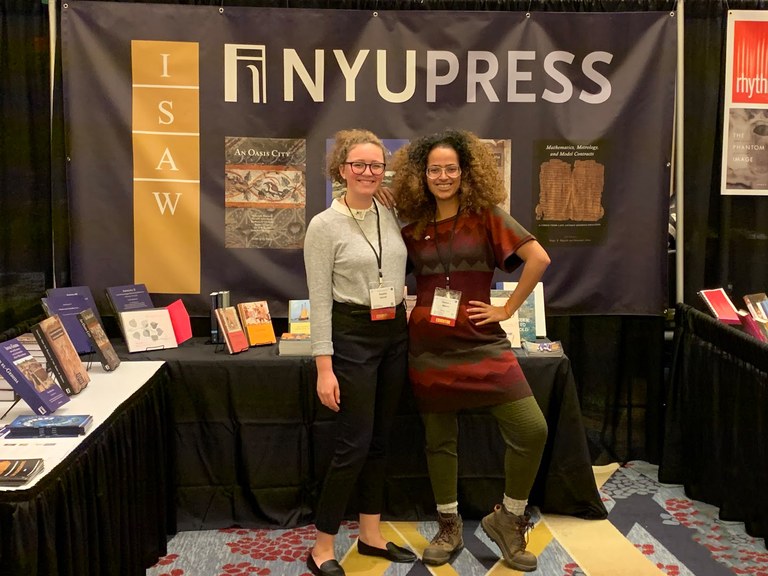 Figure 2: Sophia Carroll (left) and Vanessa Stovall (right)
Accordingly, a second focus of recent investment in our publishing program has been in the infrastructure and workflows that enable us to serve high-quality, discoverable, and stable digital versions of both our monographs and ISAW Papers, ISAW's digital journal, to the public. Zoe Blecher-Cohen, a dual degree student in Classics and Library Studies who has worked in the ISAW Library for the past two years, is now part of a team creating ISAW Papers and digital versions of ISAW Monographs. During our exile from the Library this spring and summer, Zoe worked closely with Sebastian Heath, the editor of ISAW Papers, to publish ISAW Papers 18 (Franziska Naether, ed. Cult Practices in Ancient Literatures: Egyptian, Near Eastern and Graeco-Roman Narratives in a Cross-Cultural Perspective. Proceedings of a Workshop at the Institute for the Study of the Ancient World, New York, May 16-17, 2016) and ISAW Papers 19 (Roger S. Bagnall, "Shenoute's Name"). Even as I write this, Zoe is working on ISAW Papers 20 and the digital version of Graffiti from the Basilica in the Agora of Smyrna, an ISAW Monograph published in 2016, which will then be available for free online. The pandemic has revealed to everyone in education the need for digital resources—particularly free digital resources—and ISAW is proud to be a leader in publishing high-quality scholarship on the ancient world and making it available for the widest possible audience across the globe.
ISAW's book publication program is rounded out by two other series, our Rostovtzeff Lectures series and our highly regarded Exhibition catalogs. The former are the final written expressions of the flagship lecture series presented each year at ISAW by a leading scholar and named for the great ancient historian M. I. Rostovtzeff. This year saw the publication (by the Princeton University Press) of the 2017 lectures by Jean-Luc Fornet, The Rise of Coptic: Egyptian versus Greek in Late Antiquity. In this rich and provocative set of lectures, Fornet traces the emergence of Coptic (the latest form of the Egyptian language) in the third century CE and the subsequent history of its competitive relationship with Greek over the next four centuries, ultimately attaining the status of a quasi-official language with a nascent literature of its own by the Arab conquest.
Nowhere else is ISAW's interest in and commitment to the aesthetics of scholarship more apparent than our Exhibition catalogues. In the past year ISAW produced two exquisite catalogues of its most recent exhibitions, Hymn to Apollo: The Ancient World and the Ballets Russes (exhibited March 6-June 2, 2019) and A Wonder to Behold: Craftsmanship and the Creation of Babylon's Ishtar Gate (exhibited Nov. 6, 2019-May 24, 2020).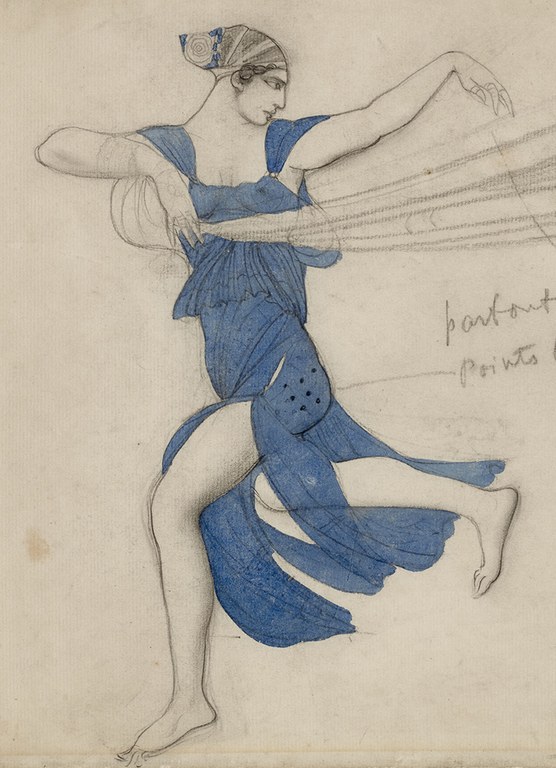 Figure 3: Léon Bakst Costume Design for Tamara Karsavina as Chloé Hymn to Apollo explores dance ancient and modern, and specifically the ways in which ancient dance was received and influenced the Ballets Russes, a Paris-based collective established by Sergei Diaghilev (1872–1929). A mix or essays and stunning illustrations present a fresh perspective on ancient artifacts, and watercolors, illustrations, sketchbooks, photographs, costumes, and other archival Ballets Russes material to show how artists turned to the ancient world to create something self-consciously modern.
A Wonder to Behold reconstructs the social world of the Ishtar Gate, delving into the aesthetics, technology, materials, and artisanal and architectural practices of the elites and now largely invisible craftsmen and laborers who built this monument to Babylon's power, one of the most celebrated works of antiquity. The Gate and its processional way feature a dazzling array of colorful beasts assembled from molded, baked, and glazed bricks. Such an awe-inspiring structure demanded the highest level of craft; each animal was created from dozens of bricks that interlocked like a jigsaw puzzle composed of hundreds of thousands of bricks. The catalogue explores ancient Middle Eastern ideas about the transformative power of materials and craftsmanship in relation to this divinely-protected entrance to the sacred inner city of Babylon through a series of richly illustrated essays by archaeologists, art historians, curators, conservators, and text specialists from major American and European institutions.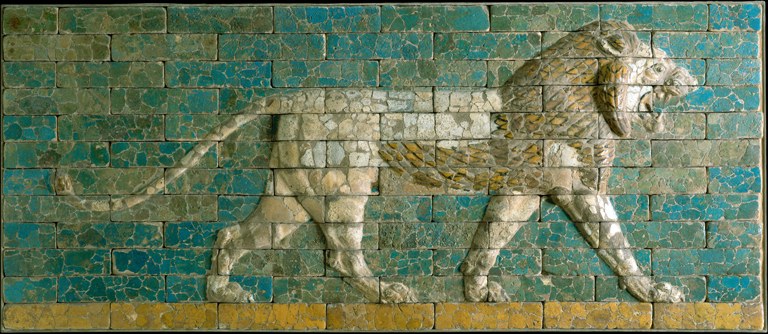 Figure 4: Reconstructed panel of bricks with a striding lion. Neo-Babylonian Period
---
Figure 1: Figure 1: Cover of Mathematics, Metrology, and Model Contractsi, edited by Roger S. Bagnall and Alexander Jones (ISAW/NYU Press 2020).
Figure 2: Figure 2: Sophia Carroll (left), an archaeology undergraduate at George Washington University, and Vanessa Stovall (right), an MA student in Classics at Columbia University, two of the students who helped exhibit ISAW publications at the Joint Annual Meeting of the Society for Classical Studies and Archaeological Institute of America in Washington, D.C. this past January.
Figure 3: Léon Bakst
Costume Design for Tamara Karsavina as Chloé, for Daphnis et Chloé (detail)
ca. 1912; Graphite and tempera and/or watercolor on paper; H. 28.2 cm; W. 44.7 cm; Wadsworth Atheneum Museum of Art, Hartford, CT, The Ella Gallup Sumner and Mary Catlin Sumner Collection Fund: 1933.392
Image: Allen Phillips/Wadsworth Atheneum
Figure 4: Reconstructed panel of bricks with a striding lion. Neo-Babylonian Period (reign of Nebuchadnezzar II, ca. 604–562 BCE), molded and glazed baked clay, Processional Way, El-Kasr Mound, Babylon (modern Hillah), Iraq. H. 99.7 cm; W. 230.5 cm. The Metropolitan Museum of Art, New York, Fletcher Fund, 1931: 31.13.2. CC0 1.0
Image:The Metropolitan Museum of Art