ISAW Student Kate Justement Contributes to Exhibitions Program
This article by Marc LeBlanc first appeared in ISAW Newsletter 25 (Fall 2019).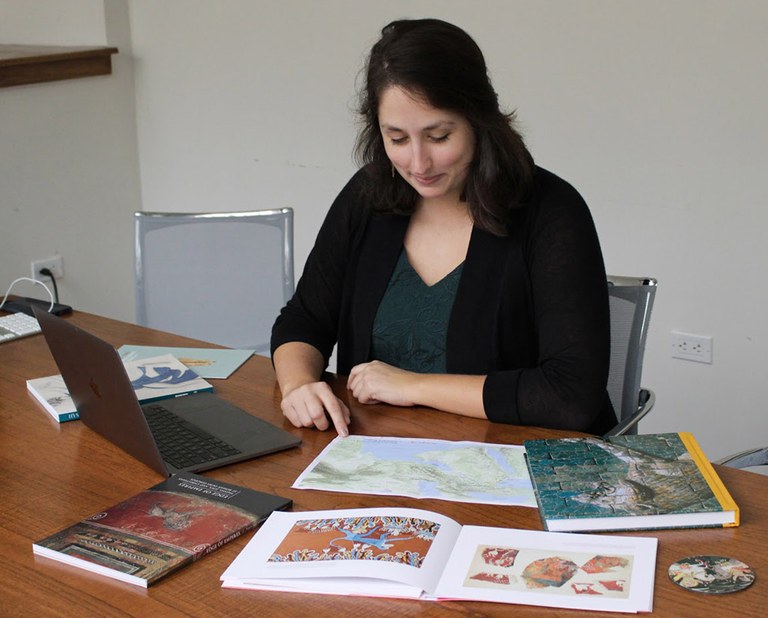 Kate Justement works on ISAW exhibitions materials. Photo by Iris Fernandez. Since January 2019, ISAW doctoral student Kate Justement has been an Exhibitions Assistant here at ISAW. In this role, she has been able to work with the entire exhibitions department in helping plan and produce upcoming exhibitions. Following the installation of the spring 2019 exhibition—Hymn to Apollo—Kate has been participating in the preparation for A Wonder to Behold: Craftsmanship and the Creation of Babylon's Ishtar Gate, which will be on view from November 6, 2019 – May 24, 2020.
Even before starting her graduate studies here at ISAW, she was already quite interested in the world of museums and exhibition work. According to Kate, being able to work in the ISAW exhibitions department during her time as a student "has proved invaluable in gaining hands-on experience of planning an exhibition from start to finish." From helping manage object checklists, editing the catalogue and exhibition didactics, working on public programming, to being able to shadow the exhibitions registrar and collections manager during installation and deinstallation, this exhibitions practicum has provided Kate with wide-ranging and in-depth involvement in exhibition work. Kate is excited to see the past nine months of work come to fruition with the opening of A Wonder to Behold and would like to express her gratitude to Clare Fitzgerald, ISAW's Associate Director for Exhibitions and Gallery Curator, and the entire ISAW exhibitions team for helping her develop new skill sets that she will take with her into future projects and research after finishing her dissertation at ISAW.