The Dinner Table of the Silk Roads Two Thousand Years Ago
This article appeared in ISAW Newsletter 23, Winter 2019.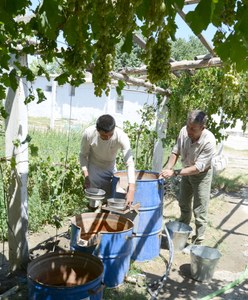 Floating soil samples from Bashtepa at the base near Bukhara, Uzbekistan As our excavations at the Hellenistic and post-Hellenistic site of Bashtepa in the Kyzyl-kum desert in central Uzbekistan continued over the summer of 2018, we obtained more fascinating data regarding the diet of its former inhabitants.
First, there is evidence of meat—a lot of meat: in 2018 alone, we recovered well over 150 pounds of animal bones from both domesticated and wild species, pointing to meat consumption on a surprisingly massive scale at this rather small site (less than half a hectare in size). But our seed-record (investigated by Rob Spengler and his team at the Max Planck Institute for the Science of Human History in Jena, Germany) shows that the inhabitants of Bashtepa also consumed free-threshing wheat (a highly compact variety as well as a lax-eared variety), hulled six-rowed barley (possibly also two-rowed barley), broomcorn millet, foxtail millet, grass peas, and lentils. All of this was probably washed down by generous portions of wine, as suggested by the ubiquitous presence of grape seeds in our flotation samples (see image for our flotation device in action). This serves as a reminder that wine consumption, often excessively practiced, has very deep roots in the feasting culture of the Greater Iranian world to which the ancient inhabitants of Bashtepa belonged.
Somewhat more surprising, especially if one's gaze wanders across nothing but sand dunes in the endless desert plain in which Bashtepa is now situated, is the abundance of fish bones in our record. In fact, fish of all kinds – from very small, anchovy-like species to large carps – must have been a fixture on the dinner tables of Bashtepa. This is a clear indication that the ancient settlement at Bashtepa was once surrounded by a landscape that must have looked very different from today's: full of lakes, ponds, and meandering rivers.
Finally, by carefully floating numerous soil samples, we detected that the waste deposits at Bashtepa are full of highly fragmented eggshells. We are currently trying to determine if these are chicken eggs. This would provide us with one of the earliest Central Asian examples of this favorite breakfast staple.