Incoming Graduate Students
This article first appeared in ISAW Newsletter 22 (Fall 2018).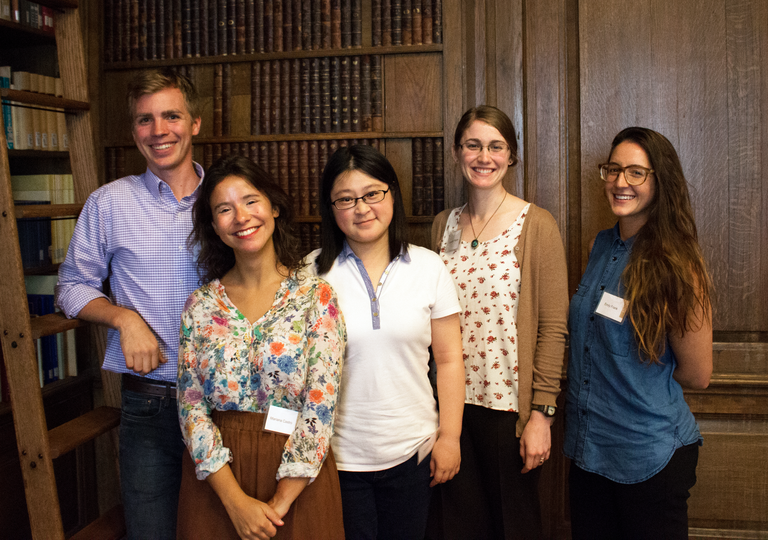 Incoming ISAW Graduate Students. (L to R): Ryan Schnell, Mariana Castro, Mi Wang, Shannon Monroe, Emily Frank Mariana Castro received a BA in Archaeology and Asian Studies (Honors) from Brigham Young University, where she focused on Classical and Chinese history, language, and archaeology. During her master's degree at the University of Oxford—which she attended as an Ertegun Scholar—Mariana enriched her knowledge of the Hellenistic and Roman periods and engaged more directly with the fields of landscape and frontier archaeology, geographical information systems, and site management and protection. Her MPhil dissertation was entitled "The Function of the Roman Army in Southern Arabia Petraea" and was done in cooperation with the EAMENA and APAAME Oxford-based projects. This capstone project employed a landscape approach unprecedented in the region and used a variety of digital resources to map and model the ancient system of fortifications, settlements, and trade routes. Meanwhile, Mariana has participated in several archaeological field projects in the USA, Belize, Portugal, Croatia, Greece, Jordan, Kazakhstan, Iraq, and Egypt, most directly concerning long-distance trade and exchange. At ISAW, Mariana hopes to better understand the eastwards spread of Hellenism, modern approaches to ancient globalization, and the modus operandi of Eurasian trade during the three centuries before and after the Common Era.
Emily Frank is an objects conservator interested in the ways that study informed by conservation, technical imaging, and scientific analysis of material culture can contribute to understanding of the ancient world. She received an MS in Conservation of Artistic and Historic Works and an MA in History of Art and Archaeology from the Institute of Fine Arts at NYU in 2018. Prior to her graduate work at the Institute of Fine Arts, she received an MA in Principles of Conservation from the Institute of Archaeology at University College London in 2014 and a BA in Art History with minors in Chemistry and Archaeology at McGill University in 2011. Emily has worked in conservation throughout her education, at the Yale University Art Gallery, the Archaeological Exploration of Sardis, the Brooklyn Museum, Agora Excavations, the Natural History Museum (London), the American Museum of Natural History, Poggio Civitate Archaeological Project, the Metropolitan Museum of Art, and the Canadian Centre for Architecture. Working within these institutions, Emily has found that close technical study of objects of diverse materials and contexts can allow for fruitful study of intellectual and artistic connections across cultural and temporal boundaries; she plans to pursue this object-based, comparative method of study at ISAW.
Shannon Monroe is from North Carolina and graduated summa cum laude with a BA in Classics & Archaeology and Modern Languages (French and Mandarin) with a minor in Asian and Pacific Studies from Loyola Marymount University in Los Angeles, California in 2018. While there, she worked as a Teaching Assistant for Dr. John Dionisio in his Honors Research and Exhibition class and for Dr. Caroline Sauvage in her Archaeological Methods and Techniques class. She also spent three years as Dr. Sauvage's Rains Research Assistant. During the summer of 2016, Shannon participated in the Yangguanzhai Archaeology Field School in Xi'an, China, which excavated a neolithic settlement situated in the Jing River Valley, and in 2017 she joined the Western Mongolia Archaeology Project Field School in Uvs Province, Mongolia to survey Bronze Age sites and excavate settlements as well as graves in this region. She is interested in early interactions between sedentary Chinese communities and nomads of the Inner Asian steppe and the respective life-ways of these groups. While at ISAW, Shannon plans to study these interactions through bioarchaeology: analyzing human remains from archaeological contexts to learn more about the health of past populations.
Ryan Schnell received his BA in Ancient Near Eastern Studies with an emphasis in Biblical Hebrew from Brigham Young University. He then received his MA in Middle Eastern Studies from the University of Chicago, where he wrote a thesis entitled, "Shall No Man Raise His Sister's Son?: The Anatolian Avuncular System in the II and I Millennia." In his thesis work, he focused on using anthropological models to reconstruct kinship and inheritance systems integral to the Anatolian ethnoliguistic group, placing them in the context of their Near Eastern and Aegean neighbors, and providing new insights into the history of the Hittite Old Kingdom. In his time at the Institute for the Study of the Ancient World, he plans to focus his research on the interaction between Indo-European and Semitic cultures in the Late Bronze and Iron Ages, using the Hittite and Luwian Kingdoms as a case study. One of his research goals will likely include a diachronic history of Hittite sacrificial practice and the role that it played in intercultural exchange. He also hopes to examine the extent to which verbal formulae were able to pass between languages as evidence for cultural interaction and the effects of this cultural interaction on the historical development of the respective cultures.
Mi Wang received her BA in Translation and Interpreting at the Zhejiang Normal University, China in 2016 and her MA in Archaeology at Boston University in 2018. Her undergraduate studies mainly focused on theories and methods of translating from the original language to the target language and cross-cultural communication; her thesis dealt with the translational restitution of several examples of classical Chinese literature. Mi's interest in further understanding culture via material culture brought her to Archaeology. During her MA, she pursued archaeological theories and methods, archaeological sciences, and cultural heritage management. Her MA project investigated identity formation in Neolithic Liangzhu Culture in south China using Geographic Information Systems (GIS), as well as the legacy of Liangzhu in the present Jiangnan region, put forward her own hypothesis and suggestion for future cultural heritage management plans based on archaeological data, reports, and museum displays, and is an example of the three-dimensional (past-present-future) relationship in which she has always been interested. From the result of her MA project, Mi suspects that there might be a transformation of cultural identity during the mid-to-late Liangzhu period. At ISAW, she wishes to further explore the existence of this transformation and whether/how it influenced other cultural behaviors such as diet through the study of stable isotope analysis, archaeobotany, and residue analysis. Furthermore, Mi wants to investigate how non-Central Plains cultures in China like Liangzhu were embodied into the modern concept of Chinese Civilization and how these social memories have influenced contemporary interpretations of these cultures.