ISAW Students Receive GSAS Awards
Marc LeBlanc
Associate Director for Academic Affairs
This article first appeared in ISAW Newsletter 22 (Fall 2018).
ISAW doctoral students Maria Americo and Andrea Trameri were recently awarded NYU Graduate School of Arts and Science dissertation fellowships for the 2018-19 academic year. Maria is one of 30 recipients from the NYU Graduate School of Arts and Science to receive the prestigious Dean's Dissertation Fellowship, which is intended to support students during the final year of dissertation writing. Andrea is the recipient of the equally prestigious Lane Cooper Fellowship, which supports dissertation research for a GSAS student who intends to pursue a teaching career in history, literature, philosophy, or classical and medieval languages.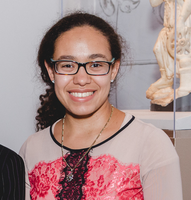 Maria's dissertation examines the extant corpus of major astronomical texts written in Arabic during the ninth century, all of which engage directly with the ancient Greek astronomical tradition, most notably the work of the second­ century Alexandrian astronomer Claudius Ptolemy, whose ideas influenced the science of astronomy for many centuries after his death. The project includes a translation and edition of a never before published manuscript, a ninth-­century Arabic astronomical text alleged to have been authored by Qusṭā ibn Lūqā, a Syrian Christian physician and scientist who worked as a translator for the Islamic caliphs.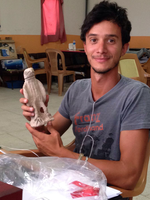 Andrea's dissertation focuses on Kizzuwatna, a buffer state located in South-Eastern Anatolia, between the territories of two major political protagonists of the Eastern Mediterranean Late Bronze Age, the Hittite kingdom in Anatolia and the Hurrian kingdom of Mitanni in Northern Syria. Involved in the warring neighbors' aggressive expansion, the state had a significant role in the geopolitical layout of the macro-region. Conceived as a comprehensive history of Kizzuwatna, the dissertation will investigate the process of formation, the political history, the cultural influence, and the inter-regional contacts of this kingdom from its origins to its demise (ca. 1600-1200 BCE). Since the origins and formative phase of this state in the Middle Bronze Age (ca. 2000-1600 BCE) and its political-historical developments remain rather obscure, the dissertation aims at providing new insights in this chapter of Ancient Near Eastern history.