Exhibitions
This article first appeared in ISAW Newsletter 19, Fall 2017.
Restoring the Minoans: Elizabeth Price and Sir Arthur Evans
October 5, 2017 – January 7, 2018
The Institute for the Study of the Ancient World (ISAW) continues its efforts to illuminate ancient cultures and their interpretation through the lens of contemporary art with Restoring the Minoans: Elizabeth Price and Sir Arthur Evans. The exhibition presents A RESTORATION, an immersive video installation by artist Elizabeth Price in which images drawn from Evans's excavation, on Crete, of the Bronze Age culture of the Minoans are transformed into a work of art for the digital age. The video, made in response to a commission by the London-based Contemporary Art Society to create an artwork based on the collection of the University's Ashmolean and Pitt Rivers Museums, will be contextualized and complemented by some 60 objects. These will comprise original artifacts unearthed during Evans's excavation and later restored by Evans and his team, as well as related watercolors, drawings, photographs, and archival materials. Many of these objects have never been publicly exhibited prior to this exhibition.
In A RESTORATION, Price explores critical questions about how archaeologists, artists, curators, and others make long-silent civilizations speak to contemporary audiences, how reliable those interpretations are, and how contemporary conditions influence the way we understand the ancient past. These are all questions that go to the heart of ISAW's work and mission.
A RESTORATION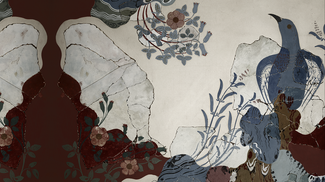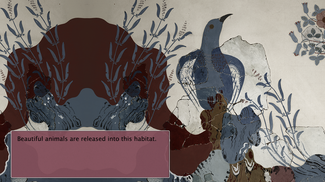 From Elizabeth Price, A RESTORATION. Video/installation, 2016. Presented by the Contemporary Art Society, Ashmolean Museum, University of Oxford: WA2017.87. Still showing watercolor representation of the Minoan "Bluebird" fresco restored by Émile Gilliéron fils.
Price's brilliantly imaginative 18-minute video, shown in a gallery of its own, is at once serious and humorous, conceptual and visual, and powerfully engaging as it raises questions about our views of the past, including how we arrive at them, what they tell us about our own era, and how—and if—we can distinguish the known from the unknown. The video is narrated by a digital chorus of unseen female "museum administrators" who describe the process through which they organize and re-imagine ancient objects, including but not limited to those from Evans's work at Knossos. Their very first words summon the complex layering of meanings and questions in the work: "We are cultivating a garden," they say, at once eliciting Evans's idyllic view of Knossos and using it as a point of departure for what they themselves will be creating within the confines of their museum's computer server.
As the administrators examine Evans's work, they describe the how he frequently re-imagined, rather than restored, archaeological artifacts. They note that "it is unusual…for restoration to be quite so indiscreet," but add that "we have resolved to extort its ribald energy for our own ends, and cultivate a further germination." This they do. With percussive, driving, music; images that may tumble across the screen, or morph into new forms with a stroke of gouache, or be layered one on top of another; and with their ever-present narrative voice, Price's administrators use Evans's practice as a point of departure to build, bit by bit, a contemporary digital paradise that contains within it a reconstruction of the Knossos labyrinth.
In doing this, A RESTORATION also invites consideration of how archaeologists, museums, and institutions organized knowledge, categorizing by form, and the way that knowledge is organized today, into digital folders living on museum servers. They acknowledge that the act of organizing these folders is repetitive and so they tell us how, like Evans, they take liberties, copying files into different locations, "roll[ing] their thumbs" and "extend[ing their] "middle fingers a little further than is necessary." Throughout A RESTORATION, the images, music, and voices inhere to one another, creating a multi-layered, resonant whole with tremendous narrative drive, simultaneously questioning what we know, or think we know, and how we know it.
Related Material
Thanks to the generosity of the Ashmolean Museum, Restoring the Minoans includes a selection of archaeological artifacts, along with diverse materials from Oxford University's Sir Arthur Evans Archive, that bring to life both the Minoan city of Knossos and Evans's methodology. Organized into several thematic groups, this presentation will show how, working both at the site and in the restorer's studio, Evans and his team meticulously restored, reconstructed, and sometimes re-created what they believed to be the Edenic city of Knossos—much as Price's administrators do in virtual form in A RESTORATION.
One telling example of Evans's imaginative re-creations is the "Lady in Red." Here, one of his primary draftsmen has created an image of a complete figure based on a single small fragment of a fresco painting. The female subject, characterized by such features as lines indicating a coquettish smile, is more evocative of contemporaneous European art, than of anything found in Minoan wall paintings. It may have been "restorations" like this that inspired Evelyn Waugh in 1929 to note that restorers of Minoan painting "have tempered their zeal for reconstruction with a predilection for covers of Vogue." Another section of this display comprises a group of watercolors, ink drawings, and sketches of architectural motifs and decorative elements found at Knossos that illustrate the way that, in a system dating to the Victorian era, Evans organized knowledge into categories of type and form. Yet the motifs themselves, which were used in Evans's restoration of frescoes, often closely resemble late nineteenth- and early twentieth-century artistic styles rather than those found in antiquity.
Evans and his team did strive to be as archaeologically accurate as possible when the evidence allowed. This is seen in watercolors of bull-leapers—acrobats who featured prominently in decoration at Knossos—based on close observation of images better preserved on sealstones and signet rings. The general composition of this scene, with a bull at the center with acrobats performing a leaping athletic feat, has in fact been confirmed by recent reexamination.
Support
The exhibition and its accompanying catalogue were made possible by generous support from the Selz Foundation, The Malcolm Hewitt Wiener Foundation, and the Leon Levy Foundation. Additional funding was provided by the May and Samuel Rudin Family Foundation, Frances Marzio, Hicham and Dina Aboutaam, and Lizbeth and George Krupp.