Digital Programs
This article first appeared in ISAW Newsletter 18 (Spring 2017).
Tom Elliott, Associate Director for Digital Programs
Kristen Soule, Information Technology Support Administrator
Videos of twenty-three public lectures are now available to stream for free to your computer or mobile device via the ISAW Website. If you visit the home page at http://isaw.nyu.edu and navigate to Events, you will find a link to the Video Archive, where you can select the lecture you would like to view.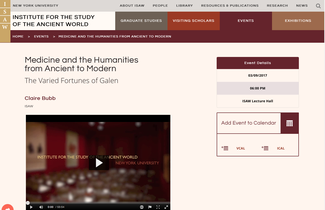 A screen shot of the video archive as seen on the event's webpage Our video archive currently spans the period from March 2016 to present. More videos are in post-production now, and will be added to the archive as they are finished. The availability of a video for a particular lecture is dependent on several factors, including: the speaker agrees to a release to post the video, technical factors, and the copyright status of material presented during the lecture. As a result, not all lectures are available to stream.
The ISAW video archive is a joint effort of the Academic Affairs, Administrative, and Digital Programs teams. Over the past few years, we've upgraded our equipment to capture and edit many of our lectures, which are edited only for clarity and consistency. The finished videos are served to the web via the NYU Stream media sharing service.
We continue to pursue technical advances in several areas, including a plan for long-term digital archiving of the video content in collaboration with the NYU Libraries, as well as a means for users to download a lecture as a single file for offline viewing.