Rome and its Critics in Late Antiquity and the Early Middle Ages
This article first appeared in ISAW Newsletter 17, Winter 2017.
Workshop, organized by Maya Maskarinec (ISAW Visiting Research Scholar)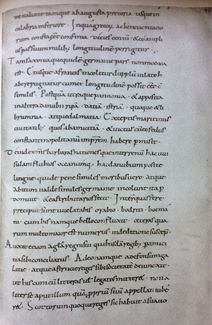 A page from Benedict's Chronicon (10th century), a text that criticizes Rome (Vatican, Chigi. F.IV.75, f. 36r). Il Chronicon di Benedetto, ed. G. Zucchetti (Rome, 1920) This workshop explores what charges, whether virulent defamations or subtler critiques, were leveled against late antique/early medieval Rome, here defined as roughly the 4th-10th centuries. What anxieties can be detected in grievances against Rome? Why are they foisted onto Rome? How did the multiple overlapping and shifting significations of 'Rome' attract or deflect critique? The period under consideration saw the fragmentation of the Roman Empire, the resurgence of local identities and the development of new forms of political and religious communities. Nevertheless, despite—or perhaps precisely because of—this plurality, Rome, as a place and as an idea, remained a standard point of reference across the Mediterranean and Western Europe. Accordingly, examining shifting critiques of Rome will allow insight into the competition between disparate cities, ecclesiastical hierarchies and political systems and the alternate visions of society that they promoted. Please note that the workshop will not be open to the general public; attendance at the workshop will be limited to invited guests only. For more information, please contact the workshop organizer.