Introduction to Digital Humanities for the Ancient World
This article first appeared in ISAW Newsletter 17, Winter 2017.
Sebastian Heath, Clinical Assistant Professor of Ancient Studies
Tom Elliott, Associate Director for Digital Programs and Adjunct Assistant Professor, Fall 2016
Emily Cole, Visiting Assistant Professor
Georgios Tsolakis, Graduate Student

Digital tools and methods have been contributing to ISAW's success since its beginnings in 2007. In 2013 Sebastian Heath began teaching a series of graduate seminars with the goal of making sure our students have the digital skills that will allow them to succeed as archaeologists, historians and philologists when they begin their careers as professors and researchers. (See the ISAW newsletter from Fall 2014.) In his words, since then the topics he has set have ranged from mapping to 3D modeling and he has pushed students towards ambitious projects and expected them to start each seminar as confident computer users. Recognizing the need to offer a course that had no pre-requisites other than interest and initiative, David Ratzan, Tom Elliott and Sebastian decided to create a seminar that would have no initial expectation of prior experience. The team taught Introduction to Digital Humanities for the Ancient World this fall.
Sebastian writes: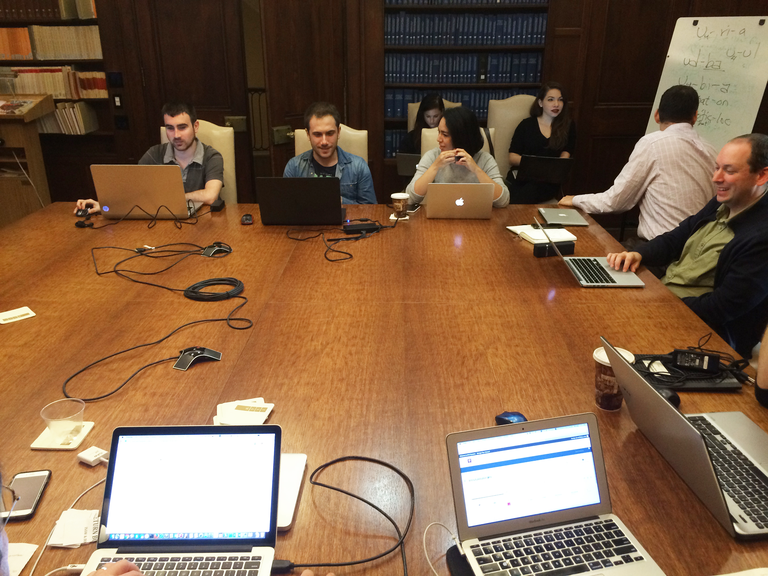 The projects the students took on range from creating a collaborative database of hieroglyphic Luwian, to mapping the geographic entities in Homer's Iliad and Virgil's Aeneid, and to visualizing networks of communication found in a corpus of Early Arab-period letters composed in Egypt. Training grounds for gladiators, tumuli throughout the Mediterranean, the letters of Libanius, the vocabulary of anger in Greek tragedy, family lineage at Aphrodisias, excavation photography in Central Asia, and the processing of legacy archaeological data are the other topic students are working on. We have asked them to collect computationally actionable data, choose digital tools to work with that data, and to come to an intellectually coherent result while thinking about and describing how they can carry on their projects once the semester is over. In short, our students have taken on the general assignment of becoming confident computer users of the sort we hope to see in future semesters. I am happy to write that they were often helped in this process by ISAW's newly hired Assistant Research Scholar, Digital and Special Projects, Patrick Burns. And it is just as important that many students have taken advantage of the course to develop skills and to gather materials that will contribute directly to their theses. Digital work at ISAW is embedded within our general mission, which includes the exploration of connectivity within the ancient world and the training of future academic leaders. The seminar Introduction to Digital Humanities for the Ancient World is just the latest development in that ongoing effort.
From one of our Visiting Assistant Professors, Emily Cole, comes this perspective:
My interest in the Digital Humanities seminar was inspired by my work on multilingual texts from ancient Egypt. I am looking to explore new ways to display and compare texts in several ancient languages while also making them accessible to scholars in a variety of fields. From day one of the Digital Humanities seminar, we were introduced to a range of tools, but it was up to us to choose the ones that would help answer our individual research questions. In my case it has been useful to consider how the EpiDoc format for text markup used by Classicists might be applied to Egyptian texts in several different languages and scripts. This class provided me with the technical vocabulary that I needed to approach colleagues at established DH projects and initiate new collaborative endeavors. By sharing data, I hope to build off of existing structures and make my work accessible outside of my own scholarly sub-discipline.
ISAW PhD student, Georgios Tsolakis, describes the seminar in the context of his studies:
A goal that I had set before coming to ISAW was to incorporate Digital Tools in my research. Thus, Introduction to Digital Humanities offered me not only an overview of cutting-edge tools but the opportunity to expand more on the ones that best fit with my academic interests. The research question of my final project was to explore the ways that I could further investigate the interrelations of the social groups in the city of Aphrodisias, as well as how these groups relied on their family tradition of holding offices and of performing benefactions in order to establish their dominion over the political and social life of their polis.
At first, I started using Python in order to extract data from XML markup text and save them to a database. Along the way I realized that the aforementioned approach is not sufficient because there is a predicament behind the representation of information in relational database management systems, which lies in their inability to segregate and classify real world objects in their entirety into different database tables. In other words, as in the real world each object is different from the others, tabular models, despite their infinitely repeated data structure, fail to codify real world phenomena, so I ended up using triple patterns and SPARQL query language. I am really excited to pursue this project further in the future and be an active member of the digital humanities community.
This fall's seminar extends ISAW's long-standing commitment to innovation in digital practice and pedagogy. This commitment began with the decision, in 2008, of the Institute's inaugural Director to create a senior staff position dedicated to digital programs (currently occupied by Tom Elliott). The faculty have furthered this commitment over the years by establishing an innovative, digital-friendly Statement on Assessment of Research, by identifying "Digital Humanities" as one of the key fields studied at ISAW, and by encouraging the development of the courses described above. Consequently, ISAW is a recognized leader in this field. In 2011, Heath and Elliott were awarded a grant from the Office of Digital Humanities at the National Endowment for the Humanities to conduct two summer seminars for graduate students and junior scholars entitled "Linked Ancient World Data Institute."
The success of these events has given rise to an annual gathering at ISAW dubbed "LAWDNY" (for "Linked Ancient World Data New York") that is organized by the ISAW Library in collaboration with Heath and Elliott (see Libraries). Such initiatives, which we expect to continue to mature and diversify in coming years, are aimed at equipping everyone who comes to ISAW (students, visiting scholars, and community members) not only with the critical and practical skills necessary to apply computational methods in their own disciplines, but also to evaluate and acquire new digital methods as they are developed in the future.