Tribute to Norman L. Peck (1938-2016)
This article first appeared in ISAW Newsletter 17, Winter 2017.
Shelby White
Founder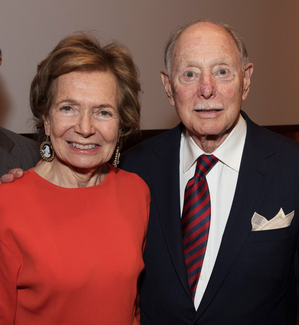 Norman Lloyd Peck was a great friend of ISAW. Mr. Peck was a quintessential New Yorker. Born in Brooklyn, he attended the Lawrenceville School and Princeton University, where he graduated in 1957. Mr. Peck made his career in real estate but loved his time spent in the philanthropic world as President of the Peter Jay Sharp Foundation.

The breadth of Norman Peck's interests and vision was vast, and his wise philanthropy had an impact on so many important cultural institutions. The Institute for the Study of the Ancient World was one of these beneficiaries, where he was both a generous funder and a loyal friend. Norman and Leon Levy shared a long history together and many interests, including ancient history. The Peter Jay Sharp Foundation's endowment of the Annual Leon Levy Lecture meant so much to all of us at ISAW. Norman's dedication and contributions to the world of arts and philanthropy was transformative, and his legacy will continue.