Material Worlds
This article first appeared in ISAW Newsletter 14, Winter 2016.
Interdisciplinary Approaches to Contacts and Exchange in the Ancient Near East
Workshop, organized by Arnulf Hausleiter, VRS
March 7, 10:00am-7:15pm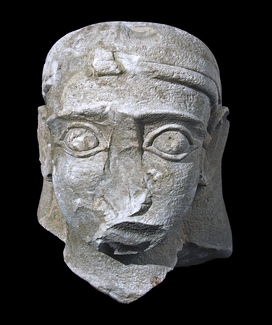 Head of a monumental statue made of sandstone from Tayma (Northwest Arabia), ca. 4th century BC. Photo courtesy of DAI Orient Department Based on most recently obtained late 3rd/early 2nd millennium BC evidence from excavations on the Arabian Peninsula, a number of distinguished scholars will discuss the interdependencies between and different views on material culture, contacts and exchange in the Middle East. The workshop, focusing on selected data sets, will tackle interdisciplinary questions of archaeological-historical as well as socio-economic significance in one of the most dynamic contact zones of the ancient world. Chronologically covering the Middle Bronze to Iron Age periods (20th to 7th century BC) the following case studies are the subject of lectures, responses, and discussions: economic framework(s) of the Ancient Near East; textual records as evidence for contacts; Egyptian sea trade; economic and cultural exchange from the Middle to Late Bronze Ages in the Eastern Mediterranean, the Levant and Arabia; material culture and technology at the margins of the Neo-Assyrian empire.
Related Lecture
(Re-)Defining an Ancient Near Eastern Contact Zone: Northwest Arabia in the 2nd Millennium BC
Arnulf Hausleiter, ISAW Visiting Research Scholar
March 8, 6:00pm