Iran Across the East/West Trade
This article first appeared in ISAW Newsletter 14, Winter 2016.
Routes of Communication and Exchange, Products of Exchange, and Networks of Trade Circa 500-900 CE
Workshop, organized by Parvaneh Pourshariati, VRS
April 22, 9:00am-4:30pm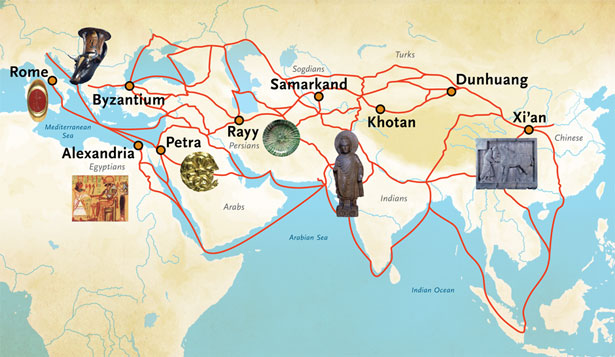 The Silk Road. Image courtesy of the Penn Museum The central location of Iran in the overland routes of trade and communication between western and eastern Asia, throughout the historical and up to the early modern period, has been long acknowledged by the scholarly community. Yet pre-modern overland trade, trade routes, networks of trade and exchange, or the products of exchange of the Iranian world, have yet to attract the scholarly attention that they deserve. This lacuna is especially felt in the Late Antique period of Iranian history (circa 500-900 CE). This workshop, conceived as an interdisciplinary dialogue, seeks to highlight the parameters of research on this important aspect of Late Antique history of western Asia. How central was Iran to the networks of trade and exchange in the Late Antique world, what role did it play in connecting the Byzantine Empire to China, and how was its position affected, if at all, by the Arab conquests of the early seventh century and the Abbasid Revolution of the mid-eighth, or the construction of Baghdad?