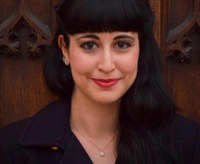 Valentina A. Grasso
Visiting Assistant Professor 2021-22 & Fall 2022
Valentina A. Grasso is a Visiting Assistant Professor at New York University's Institute for the Study of the Ancient World. She is also an affiliate member of the ERC project "The Qur'an as a Source for Late Antiquity" (QaSLA, 2021-6), the Cambridge Silk Road Program, and the London Society for Medieval Studies.

Valentina holds a B.A. cum laude from the University of Catania (Semitic Philology, 2015), a M.A. cum laude from the University of Naples "L'Orientale" (Islamic Studies, 2017), and a Ph.D. (Divinity, 2021) from the University of Cambridge, where she completed her doctoral dissertation on the history of pre-Islamic late antique Arabia under the supervision of Professor Garth Fowden. While her current research explores the interactions between Arabia and Ethiopia during Late Antiquity, her teaching seeks to provide students with a comprehensive understanding of the first millennium world outside of a Eurocentric framework.
Key publications:
Grasso, V. (2020). "A Late Antique Kingdom's Conversion: Jews and Sympathisers in South Arabia", Journal of Late Antiquity 13.2 (2020): 352-382 .
Grasso, V. (2021). "The Gods of the Qur'ān: the Rise of Ḥijāzī Henotheism during Late Antiquity" in The Study of Islamic Origins. New Perspectives and Contexts, ed. M. B. Mortensen, G. Dye, T. Tesei and I. Oliver (De Gruyter).