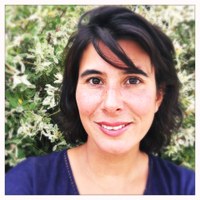 Pénélope Riboud
Visiting Research Scholar 2018-19
Pénélope Riboud is a historian and an art historian who focuses on the society and visual culture of Medieval China. She was trained in France as a historian and an archaeologist at Université Paris 1- Panthéon Sorbonne, then as a sinologist at the National Institute of Oriental Languages and Civilizations (Inalco-Langues'O) in Paris where she received her PhD in 2008. She is currently Assistant Professor of Chinese History and Art History at Inalco in Paris, and teaches China's Ancient History (pre-Song), Art History and History of Religions.
She is mainly interested in exploring the multiple facets of social and religious life in medieval China based on the cross-examination of textual, epigraphic, archaeological and visual material.  Her research has led her to investigate agents of religious circulation between Central and Inner Asia, and China, and therefore has focused on the people (individuals or groups), texts or objects (artworks and material culture) that were actors of this transmission. Her doctoral dissertation examined Zoroastrian traditions among Sogdian immigrants in 6th century China as understood from the cross-analysis of five Sogdian tombs and their content excavated in China with textual and epigraphic material. Other projects she has been involved in these past few years have focused on social and ritual attitudes towards death in multicultural environments, such as the development of hell imagery in China and Central Asia, or the economic repercussion of death in medieval China.
During her year at ISAW, Pénélope Riboud will be working on a monograph titled Defining "xian 祆": an investigation into the visual, textual and archaeological sources of Zoroastrianism in medieval China. With its interactive and multidisciplinary approach of Zoroastrianism in China, which she closely links to the social, cultural and political histories of China, Central and Inner Asia, the project hopes to contribute to our understanding of connections between ancient worlds.