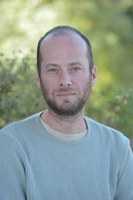 David Kertai
Visiting Research Scholar, Spring 2019
David Kertai earned his PhD in Near Eastern archaeology at Heidelberg University. He is currently a research associate at the Martin Buber Society of Fellows in the Humanities and Social Sciences at The Hebrew University of Jerusalem. Prior to this, he worked as a research associate at University College London and the University of Tel Aviv. He is a trained architect (M.Sc., the Technical University Delft) with additional degrees in Classical and Near Eastern Ancient History (B.A., Free University Amsterdam) and Archaeology (M.A., Leiden University). He has undertaken extensive fieldwork throughout the Middle East.
Kertai specializes in ancient Near Eastern architecture and Assyria (c. 1350 – 600 BCE). He is the author of the book, The Architecture of Late Assyrian Royal Palaces (Oxford University Press, 2015), which elucidates the architectural principles of Neo-Assyrian royal palaces. He is also the editor of From the Four Corners of the Earth. Studies in the Iconography and Cultures of the Ancient Near East in Honour of F.A.M. Wiggermann (with O. Nieuwenhuyse; Münster, 2017) and New Research on Late Assyrian Palaces (with P. Miglus; Heidelberg, 2013).
Subsequent research, exploring the ways in which Assyria's palaces shaped its kingship, has been published in Iraq (2017, 2011) and Altorientalische Forschungen (2015).  Other published and forthcoming work analyzes the complexities and peculiarities of the Assyrian royal family (Altorientalische Forschungen 2013); the status of the palace reliefs as architectural features and their spatial contexts and conceptualization (Mesopotamia 2015; Journal of Near Eastern Studies 2015); the Victorian context within which Near Eastern archaeology emerged as an independent discipline; and the specific nature and interactions of different Iron Age architectural traditions from Iraq, Turkey, Syria, and Israel (Cambridge Archaeological Journal 2018).