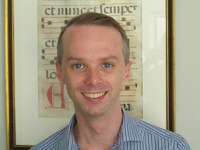 Coleman Connelly
Visiting Assistant Professor 2018-19
Coleman Connelly is a Visiting Assistant Professor at ISAW. He received his PhD in Classical Philology from Harvard University in 2016 and his AB in Classics from Princeton University in 2010.
Connelly studies how and why classical Greek texts, especially the Galenic corpus, were translated into Syriac and Arabic in eighth- through tenth-century Iraq. His ISAW research project investigates competing narratives of ownership over the ancient Greek past during this Graeco-Arabic translation movement. How did medieval Iraqis—Christians and Muslims, Arabs and non-Arabs—lay claim to the legacy of the likes of Aristotle and Galen? More broadly, his work brings a combination of Greek, Syriac, and Arabic evidence to bear on a diverse array of social and intellectual historical problems of the period, from Christian-Muslim relations to the survival of Aramaean polytheism.
Before coming to ISAW, Connelly served as an American Council of Learned Societies Postdoctoral Fellow at the Ohio State University (2016-2018).
Click here for Coleman Connelly's academia.edu page.