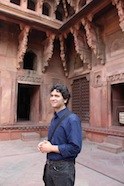 Matteo Compareti was born in 1971 in Padua, Venice region, in north-eastern Italy. He graduated at Venice University "Ca' Foscari" in the faculty of oriental studies (1999) and defended his PhD at the University of Naples "L'Orientale" with a dissertation on the "Silk Road" studies (2005). He concentrates his interests on the presence of the Sogdians and the Persians in Xinjiang and proper China in the pre-Islamic period. He took part in the Italian-Uzbek excavations in the region of Bukhara directed by Prof. Chiara Silvi Antonini from Rome University "La Sapienza" in fall 2002 and, in fall 2006, he was invited by the research team directed by Prof. Maurizio Tosi from Bologna University "Alma Mater" to visit their excavations in Samarkand. The result of this fieldwork was the publication of a book (2009) on the identification of a cycle of paintings in pre-Islamic Samarkand (Afrasyab) where important Chinese (and, possibly, Indian) elements are depicted as well. Moreover, the Afrasyab paintings could be considered an ideal link between the decorations of the 6th century funerary monuments from Xi'an and the Islamic production of book illustrations, specifically the banquet scenes or, in any case, the representations of the royal court.
His scholarly interests range widely, from the archaeology and history of art of Iranian peoples such as the Sasanian Persians and Sogdians to the archaeology and history of art of the pre-Tang and Tang periods with special attention devoted to the presence of external elements (mainly Iranian ones) in 6th-7th century Chinese art.
The extraordinary discoveries in the area around Xi'an, the ancient Chinese imperial capital, of a series of newly excavated graves which belonged to Iranian immigrants settled into China during the 6th century became one of his main interests. In fact, these funerary monuments allow us to better understand the history and culture of Sogdiana motherland and also its largely unknown local form of Zoroastrianism.
While at ISAW, he will be completing a study devoted to the representation of the Senmurv (Neo-Persian Simurgh) in Iranian arts during pre-Islamic and Islamic periods. This is a mythological fantastic bird much celebrated in Zoroastrian literary sources (a kind of "Persian phoenix") whose investigation should be reconsidered in the light of new archaeological discoveries in Persia and Central Asia.