The Brooklyn Rail Reviews "Restoring the Minoans"
The Brooklyn Rail's review of Restoring the Minoans: Elizabeth Price and Sir Arthur Evans praises the exhibition's "lively, scholarly, and refreshingly amusing waltz through the material."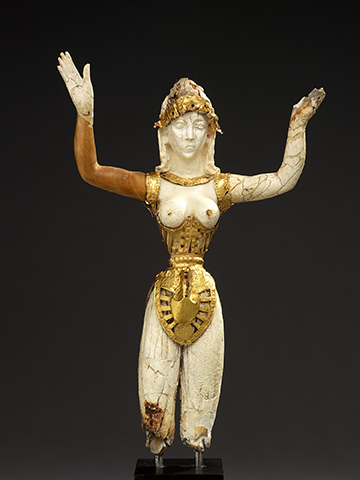 McCoy writes, "In 2016, Elizabeth Price (winner of the 2012 Turner Prize) made A RESTORATION, a two-channel video. Price was commissioned by the Contemporary Art Society in London to make a video based on the collections of Oxford's Ashmolean and Pitt Rivers Museums. ISAW's chief curator, Jennifer Y. Chi, curatorial assistant Rachel Herschman, and the J. Paul Getty Museum's curator of Antiquities, Kenneth Lapatin, curated the ISAW exhibition both in response to the Price's video and to bring the Knossos of Sir Arthur Evans to life. The result is a selection of archeological watercolors, museum artifacts, excavation plans, and photographs, paired with the work of a remarkable contemporary artist. Showing how Evans used 'permissive' restoration techniques and how authentic artifacts, forgeries, and fresco reproductions entered museum collections, the artist and curators treat this history with a combination of playful wit and excellent scholarship."
Read the full Brooklyn Rail review here.
Restoring the Minoans: Elizabeth Price and Sir Arthur Evans is open through January 7, 2018:
Closed Monday and Tuesday 
Wednesday-Sunday: 11am-6pm
Friday: 11am-8pm; free guided tour at 6 pm
Free admission
Image: Statuette of a Minoan Goddess (Our Lady of the Sports), Crete, probably early 20th century. Ivory and gold, 19.1 × 12.5 × 3.9 cm. With permission of the Royal Ontario Museum © ROM.