ISAW Organizes Digital Classics Workshop, "Ancient MakerSpaces"
The 2017 Annual Meeting of the Society for Classical Studies in Toronto saw the introduction of a new event in the conference program: Ancient MakerSpaces, an all-day digital classics workshop organized by Head Librarian David Ratzan and Digital Projects Associate Patrick Burns. Ancient MakerSpaces featured a wide variety of hands-on demonstrations, research papers, and concluded with a state-of-the-field panel. By the end of the day, well over 100 people visited Ancient MakerSpaces, including leading digital researchers and passersby curious about emerging, innovative methods in the field.
The intersection of ancient world studies and technology was a prominent theme in the SCS 2017 program, with the Digital Classics Association leading a session on "Digital Classics and the Changing Profession" and SCS President and ISAW Director Emeritus Roger Bagnall convening a presidential panel on "Digital Publications and the Future of Classics." Ancient MakerSpaces complemented these overarching perspectives by taking up digital classics in practice, that is it provided an opportunity for hands-on, peer-based learning for core digital classics resources, tools, and methods.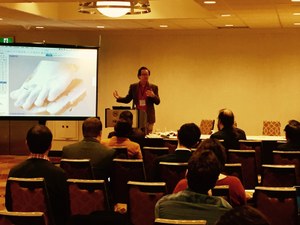 ISAW played an active role at the workshop: Professor Sebastian Heath ran a workshop on 3D modeling with graduate student Georgios Tsolakis assisting, David led a hands-on demonstration of the Digital Corpus of Literary Papyrology, Associate Director for Digital Programs Tom Elliott introduced a mapping workshop, and Patrick moderated the concluding panel. This level of participation in the workshop is in keeping with the ISAW Library and Digital Programs' commitment to digital humanities programming focused on ancient world study, building on recent efforts such as this fall's Introduction to Digital Humanities for the Ancient World course, December's Digital Antiquity Research Workshop, and Linked Ancient World Data Institute (LAWDI) meetings in 2012 and 2013. As Digital Programs' mission states, the goal is to "create key information resources for ancient studies, together with the platforms and communities that enable them." This ethos was on display throughout Ancient MakerSpaces.
The success of Ancient MakerSpaces suggests that there is a growing interest in digital work at the SCS annual meeting and perhaps a need to provide a regular space where the entire SCS community can experiment with new and evolving resources. The workshops captured the breadth of development and research going on in the field, the papers showcased this in action, and the panel offered a chance to reflect on our position within the discipline. We are optimistic that Ancient MakerSpaces will make another appearance in the SCS program next year in Boston and hope to see you there.