. . . circle through New York continues. ISAW Welcomes Pinkie!
ISAW welcomed Pinkie to our community for a residency during the month of May. This Salmon-crested cockatoo, usually a resident of Pet Resources in the Bronx, enjoyed her time in the Gallery Shop where she played with an array of parrot toys, listened to ukulele music, and munched on peanuts and fruit.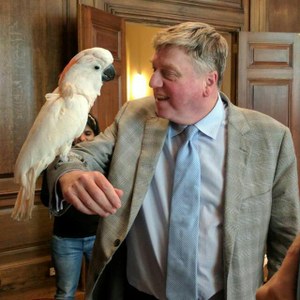 When word got out at a nearby playground that there was a talking bird at ISAW, Pinkie graciously greeted a host of young visitors during her open hours. ISAW faculty and staff tried to add the ancient Greek word for "democracy" to her vocabulary, but Pinkie was too polite a guest to talk politics.
Pinkie's residency was the latest iteration of
. . . circle through New York, a project commissioned through the Solomon R. Guggenheim Museum's Social Practice Art Initiative. As a way of bringing together New York communities often separated by cultural, economic, geographic, or circumstantial boundaries, artists Lenka Clayton and Jon Rubin have invited six public venues to participate in a system of social and material exchange.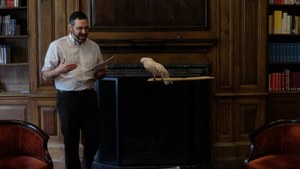 Pinkie's residency was accompanied by a series of conversations on Parrots in Antiquity by Assistant Research Scholar Patrick Burns. Audiences were delighted to learn about Aristotle's report that parrots get "rather out of control after drinking wine" while Aubrey Mike, the bird's caretaker from Pet Resources, spoke about Pinkie's background and usual care (no wine).
For more information about the project, and to learn more about our partners in . . . circle through New York, please visit https://www.circlethroughnewyork.com/ .