Digital Libraries, Papyri, and Archaeological Data
My first few months at ISAW are over, and though I am still adjusting to New York City life, diving into the library's digital projects has been very exciting. I am coming to ISAW as a recent graduate from the University of Michigan, where I completed the master's program in Information Science. My undergraduate training at Michigan State University included Anthropology, Museum Studies, and Ancient Mediterranean Studies. I have always been interested in the ancient world, particularly ancient Egypt. I have also been very interested in libraries and have worked in several, including the University of Michigan Libraries and Smithsonian Libraries. 
My interest in ancient Egypt led me on a search for the intersections of Egyptology, Archaeology, and Information Science, with the goal of studying one of these intersections for my Master's thesis. This quest led me to the 2018 American Research Center in Egypt annual meeting, where I spoke to Egyptologists about this question and sat in on related presentations. After the meeting I talked with a team that was starting discussions on how to implement a central database for their fieldwork in Egypt. From this conversation, my interests in archaeological data and site-based data curation were born.
While no expert in database design or implementation, a few of my graduate classes touched on database structure and programming languages, which increased my interest in archaeological data modeling. I decided to build my thesis around understanding individual team members' motivations and expectations for using a central database (instead of their own individual databases) and reconciling the members' varying ideas on the capabilities and purposes of databases. As the new Assistant Research Scholar for Digital Initiatives, I am excited to continue studying the use of archaeological databases and become involved in conversations on archaeological data management within the ISAW community.
During these past three months I have jumped into several projects that I am very excited about. Two of these projects are: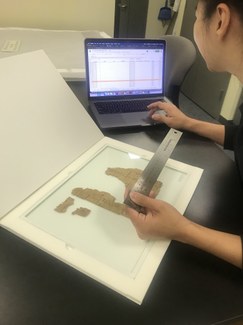 Melody Chen and Jasmine Smith (taking the photo) working with the papyri in NYU Special Collections. Digital Libraries: I'm currently working on the soon-to-be-launched Digital South Caucasus Collection and updating AWDL. Former Assistant Research Scholar Patrick Burns has started training me on the awesome work he's done with these projects and I'm looking forward to pushing them forward these next two years.
NYU Papyri Project: Melody Chen (a former conservator for NYU Libraries) and I have been working together on getting the metadata and the photographs she has taken of items in the NYU papyri collection ready to be uploaded to papyri.info. She has taken thousands of photographs of individual pieces in the collection and these will now accompany their records on papyri.info. Old records for NYU papyri will be edited with new metadata and new records will be created for items at NYU not yet represented on papyri.info.
Both of these projects allow researchers better access to information - something that I am very passionate about. During my time at ISAW I am looking forward to continuing these initiatives and identifying other areas where the library can contribute to research at ISAW.