Oct. 20, 2017: Conference on Digital Publication in Mediterranean Archaeology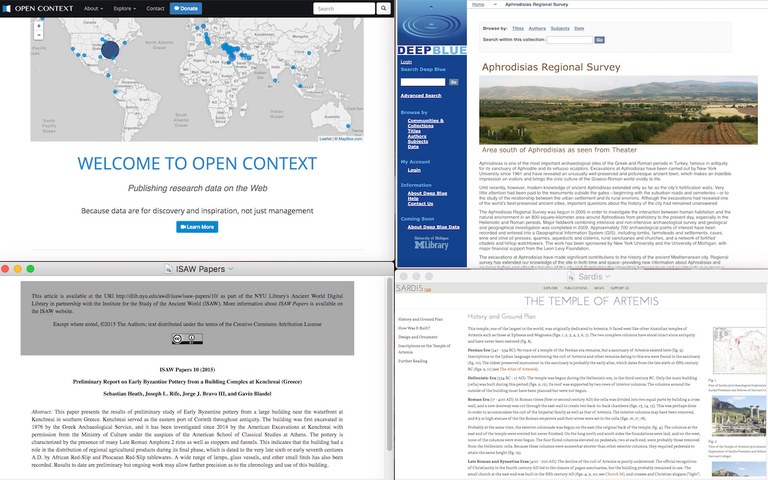 The Institute for the Study of the Ancient World and the Shelby White and Leon Levy Program for Archaeological Publications, in partnership with the Archaeological Institute of America, are pleased to announce a one-day conference on Oct. 20, 2017 (9am-5pm):
Digital Publication in Mediterranean Archaeology: Current Practice and Common Goals
This conference brings together archaeologists and experts in the creation of digital resources to share and discuss current practices and future opportunities in the digital publication of archaeological data and results. The event is timely because the volume of archaeological resources available via the public internet is growing rapidly. There is much to be learned by assessing what has been accomplished and by considering what steps and which existing or new standards and practices can make digital publications more useful. The conference will promote ongoing discussion by bringing together archaeologists, librarians, archivists, and digital publishers for individual presentations and a closing panel.
Schedule
9:20 – 9:30am: Introduction, David Ratzan (ISAW)

9:30 – 10:00am: Sebastian Heath (ISAW), Digital Publication as Context: An Archaeologist's Perspective
10:00 – 10:30am: Erin Averett (Creighton, AIA), Visualizing Votive Practice: The Athienou Archaeological Project's Experiments with Digital 3D Publication

10:30 – 11:15am: Discussion followed by Coffee & Tea Break

11:15 – 11:45am: Eric Kansa (Open Context, W-L), Data Publishing: Editorial and Curation Needs in Archaeology
11:45am: – 12:15pm: Christopher Ratté (Michigan), Archaeological Data Management and Digital Publication at the University of Michigan

12:15 – 2:00pm: Discussion followed by Lunch

2:00 – 2:20pm: Patrick J. Burns (ISAW), Mapping Library Subject Headings with the HathiTrust Extracted Features Dataset

2:20 – 2:30pm: Discussion

2:30 – 3:00pm: Theresa Huntsman (Harvard), Lydian Legacies: Approaches to Digital Publication and Open Access for Sixty Years of Archaeological Data from Sardis
3:00 – 3:30pm: Emily Cole (ISAW) and Bethany Simpson (UCLA), Digitizing Digs: Combining 20th and 21st Century Excavation Archives from the Fayum, Egypt

3:30 – 4:00pm: Discussion followed by Tea Break

4:00 – 5:30pm: Tom Elliott (ISAW), Credit, Blame, and Consequences (Introductory remarks for panel discussion)

RSVPs for this event are now closed. Please use this form to add your name to the wait list for the conference if you would like to attend. For more information, please visit the conference website or email Patrick J. Burns at patrick.j.burns@nyu.edu.