Funerary Stela of Isidoros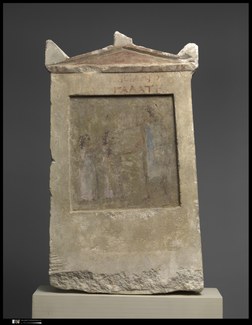 Funerary Stela of Isidoros
Limestone;
H. 41.9 cm; W. 24.4 cm
Alexandria; 250–200 BCE
Gift of Darius Odgen Mills; The Metropolitan Museum of Art: 04.17.4
Images copyright © The Metropolitan Museum of Art. Image source: Art Resources, NY
Found in the Ptolemaic cemetery of Hadra east of Alexandria, this stela-shaped slab was probably used to seal a burial niche that contained the ashes of the deceased. The painted inscriptions is of an extreme sobriety: only the name Isidoros and the "ethnic" designation (Galatian) are given.
Galates in Ptolemaic Egypt are known from Alexandrian gravestones, although Polybius reports that there were also Galatian military settlers in the Ptolemaic army at the Battle of Raphia in 217 BCE. They are likely to have been employed as mercenary soldiers at some point after their invasion of northern Greece and Thrace (279 BCE), parts of which were ruled by the Ptolemies in the second half of the third century BCE.
Isidoros—a Greek name based on that of the Egyptian goddess Isis—was probably born in Egypt, most likely the son of a Galatian soldier who followed his father into the army.
The painted scene decorating the stela is typical of the Greek funerary repertoire: Isidoros, dressed in Greek clothing, is greeted by two souls in the guise of two small girls in long robes.
J. R. Marszal. Ubiquitous Barbarians. Representations of the Gauls at Pergamon and Elsewhere. In: N.T. de Grummond and B.S. Ridgway, eds. From Pergamon to Sperlonga. Sculpture and Context. Berkeley, Los Angeles, London: University of California Press, 2000. 198, no. 34.