Funerary Hydria of Sotion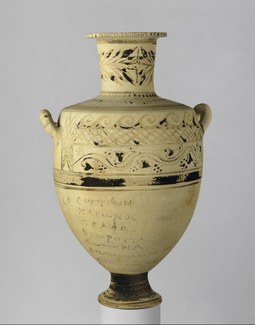 Funerary Hydria of Sotion
Terracotta; 

H. 46.4 cm; Diam. (max.) 30.2 cm
Hadra (Alexandria);
Before February 14, 212 BCE
Purchase, 1890, The Metropolitan Museum of Art: 90.9.37
Images copyright © The Metropolitan Museum of Art. Image source: Art Resources, NY
Terracotta hydriai, called "Hadra vases" after the cemetery in which they were found, are a distinctive product of Alexandria. They were generally used for the burial of ashes after cremation, a distinctly Hellenic practice alien to the Egyptians.
This vase was provided for the ashes of the theoros Sotion, a sacred ambassador from Greece who died while in Alexandria in 214/3 BCE at the court of Ptolemy IV Philopator. Sotion had come to Alexandria to announce the quadrennial celebration (in summer of 213 BCE) of the Delphic Soteria, a festival founded in honor of the divine intervention that repelled the Gallic (Celtic) invasion of 279 BCE.
The inscription was probably written by Theodotos, a court official who took charge of the burial.
B. Cook. Inscribed Hadra Vases in the Metropolitan Museum of Art, Papers of the Metropolitan Museum of Art, Vol. 12. no. 10. New York: The Metropolitan Museum of Art, 1996. 8, 25, no. 6, pls. III, XI.
S. Walker, P. Higgs. Cleopatra of Egypt: From History to Myth. London: British Museum, 2001. no. 146, p. 120.