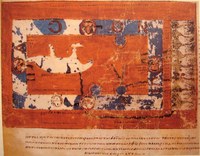 World Map from Cosmas Indicopleustes. Wikimedia Commons. This work is in the public domain in its country of origin and other countries and areas where the copyright term is the author's life plus 70 years or fewer.
RESCHEDULED: Encounters in the Medieval Mediterranean World
Hussein Fancy (Yale University) & Jonathan Conant (Brown University)
This event will take place online; a Zoom link will be provided via email to registered participants.
Registration is required at THIS LINK.
NOTE: this event was originally scheduled for March 24th. Due to unforeseen circumstances, the event has been postponed. The new date for the event is March 31st.
Lecture #1: Hussein Fancy (Yale University)
Title: "The Sea of Lies" 
Abstract: "The past century of scholarship has offered two competing views of the medieval Mediterranean: a zone of intense conflict or one of intense contact.  Grounded in Latin, Romance, and Arabic sources, this lecture traces the activities of impostors, people who crowded the thirteenth- and fourteenth-century Mediterranean and force us to think beyond metaphors of contact and encounter to explain the relationships between Jews, Christians, and Muslims."
Bio: Hussein Fancy is Associate Professor of History at Yale University.  His research focuses on the social and intellectual history of interactions between Jews, Christians, and Muslims in the medieval Mediterranean as well as the intersection of Latin and Arabic archives.  He is the author of The Mercenary Mediterranean (Chicago, 2016) and with Alejandro García Sanjuán, What was the Islamic Conquest of Iberia? Understanding the New Debate (Routledge, 2021).
Lecture #2: Jonathan Conant (Brown University)
Title: "Beyond the Mediterranean: Rethinking Africa in Late Antiquity" 
Abstract: Studies of North Africa between the fourth and the seventh century CE typically understand Egypt and the Maghrib within a Mediterranean frame. This talk asks how our understanding shifts if we consider the region from the perspective of continental Africa, including ties across the Sahara, up the Nile, and along the Red Sea and Indian Ocean coasts. One answer is that the same processes of empire that facilitated the circulation of people, goods, and ideas within the later Roman world also extended well beyond the Mediterranean, linking the economies, societies, and cultures of southern Europe, western Asia, and Africa into an increasingly coherent system.
Bio: Jonathan Conant is Associate Professor of History at Brown University. His research focuses on the social history of North Africa and the western Mediterranean in late antiquity and the early Middle Ages. He is the author of Staying Roman: Conquest and Identity in Africa and the Mediterranean, 439–700 (Cambridge, 2012) and co-editor (with Susan T. Stevens) of North Africa under Byzantium and Early Islam (Dumbarton Oaks, 2016).
Please check isaw.nyu.edu for event updates.
ISAW is committed to providing a positive and educational experience for all guests and participants who attend our public programming. We ask that all attendees follow the guidelines listed in our community standards policy.