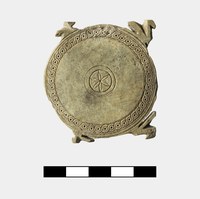 The Creation of Worked Animal Objects in the Early Greek World
Adam DiBattista
ISAW Visiting Research Scholar
This lecture will take place online; a Zoom link will be provided via email to registered participants.
Registration is required at THIS LINK.

Recent excavations at the site of ancient Methone, an early Greek colony in northern Greece, have revealed the remains of a diverse set of industrial activities and workshop areas. Within this environment of production, craftspeople at Methone created a range of objects from bone, antler, boar tusk, elephant ivory, and other animal materials between the late eighth and sixth centuries B.C.E. In addition to finished objects, the Methone assemblage contains large quantities of production waste. These byproducts reveal the technical practices used by craftspeople to transform animal materials. Additionally, analysis of the assemblage also demonstrates that individuals at Methone used animal materials from both wild and domestic species, indicating that craftspeople were integrated within a diverse web of relationships among humans, animals, and the natural world.
The creation of worked animal objects at Methone coincided with a period of social transformation, a time when individuals in the Greek world were investing wealth into the public religious environment of sanctuaries. Bone and ivory objects became a distinct form of dedication at sanctuaries across the Greek world, including at the Archaic Artemision at Ephesus and the sanctuary of Artemis Orthia at Sparta. Despite the widespread use of animal materials for dedications, contemporary archaeological evidence for the production of such objects remains extremely limited outside of Methone. As a result, the Methone assemblage offers unparalleled insight into the technical aspects of the production of ivory and other worked animal materials, as well as tangible evidence for the varied relationships between the natural and cultural worlds.
Adam DiBattista is a Visiting Research Scholar at ISAW. He received his BA in Archaeology from Boston University (2014), followed by his MA (2016) and PhD from the Cotsen Institute of Archaeology at UCLA (2021). He is an archaeologist researching the creation and use of objects made from animal materials (e.g., bone, antler, ivory) in the Iron Age Mediterranean. His work examines human-animal relationships in the past, 1st millennium ivory trade, and the role of worked animal objects within intercultural exchange.
Please check isaw.nyu.edu for event updates.
ISAW is committed to providing a positive and educational experience for all guests and participants who attend our public programming. We ask that all attendees follow the guidelines listed in our community standards policy.