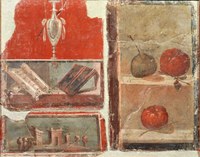 Still-life fragments representing vase, scrolls, landscape, and fruit; 1st century CE; Fresco; Herculaneum; National Archaeological Museum of Naples: MANN 9819 Image © Photographic Archive, National Archaeological Museum of Naples
The Pleasures of Pompeii: A Day of Creative Writing
Exhibition Workshop
Hosted by Geoffrey Nutter with a live appearance from New York Times best-selling author Madeline Miller
This workshop will take place online; a Zoom link will be provided via email to registered participants.
Registration is required at THIS LINK.
A green pear and a shining red pomegranate, leaf still attached to its stem; two men sharing some bit of gossip at a dinner party; a mask peering up at us from a bed of grape leaves; mythological scenes and landscapes: these are a few of the images that the residents of the Roman town of Pompeii decided to paint on the walls of their homes. On an August day in 79 AD the town was destroyed by the eruption of Mt. Vesuvius—but the spirit of its people live again in the many works of art that survived. They give us an intimate view of the things that the ordinary people of Pompeii surrounded themselves with—-things they loved, dreamed about, enjoyed doing, and found beautiful. They speak to us, as if to say, "We are more than just victims lost on one terrible day so long ago."
In a day of creative writing activities, we will look closely at these objects, imagining and speculating and listening to what they might have to tell us about themselves and the people who made them. We will be artists looking at the things made by fellow artists—the work of human beings essentially like us, who wanted to communicate their love for the people, stories, objects, and landscapes that enriched their lives. We will reach out to each other across time. But ultimately it will be a day of great enjoyment—of looking at beautiful images and engaging in the pleasures of imaginative writing.
Geoffrey Nutter is originally from California but has lived in New York for many years. He has published six books of poetry, including Christopher Sunset, The Rose of January, Cities at Dawn and, most recently, Giant Moth Perishes. Geoffrey studied poetry at the University of Iowa Writers Workshop, and has taught poetry classes at Princeton University, The New School, New York University, Columbia, the 92nd Street Y in NYC, the Paris Writers Workshop, and NYU. Geoffrey has collaborated with many artists, including the composers Brent Arnold and Brandon Scott Rumsey and the artist David Scher. He recently traveled in China, visiting universities and schools and giving lectures, workshops, and readings as a participant in the Sun Yat-sen University Writers' Residency. Geoffrey's poems have been translated into Spanish, French, and Mandarin. He runs the Wallson Glass Poetry Seminars, where poets from all over North America, Europe, and Asia gather remotely every two weeks for several hours of intensive poem-making.   
Madeline Miller grew up in New York City and Philadelphia. She attended Brown University, where she earned her BA and MA in Classics. She has taught and tutored Latin, Greek, and Shakespeare to high school students for over fifteen years. She has also studied at the University of Chicago's Committee on Social Thought, and in the Dramaturgy department at Yale School of Drama, where she focused on the adaptation of classical texts to modern forms.
The Song of Achilles, her first novel, was awarded the 2012 Orange Prize for Fiction and was a New York Times Bestseller. Miller was also shortlisted for the 2012 Stonewall Writer of the Year. Her second novel, Circe, was an instant number 1 New York Times bestseller, and won the Indies Choice Best Adult Fiction of the Year Award and the Indies Choice Best Audiobook of the Year Award, as well as being shortlisted for the 2019 Women's Prize for Fiction. Circe also won The Red Tentacle Award, an American Library Association Alex Award (adult books of special interest to teen readers), and the 2018 Elle Big Book Award.  It is currently being adapted for a series with HBO Max. Miller's novels have been translated into over twenty-five languages including Dutch, Mandarin, Japanese, Turkish, Arabic and Greek, and her essays have appeared in a number of publications including the Guardian, Wall Street Journal, Washington Post, Telegraph, Lapham's Quarterly and NPR.org. She currently lives outside Philadelphia, Pennsylvania.
This lecture is given in conjunction with ISAW's exhibition Pompeii in Color: The Life of Roman Painting. The exhibition is made possible by generous support from The Achelis and Bodman Foundation, the Samuel H. Kress Foundation, and the Leon Levy Foundation. Additional funding provided by Victoria Newhouse.
Please check isaw.nyu.edu for event updates.
ISAW is committed to providing a positive and educational experience for all guests and participants who attend our public programming. We ask that all attendees follow the guidelines listed in our community standards policy.