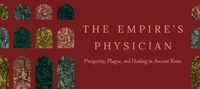 Exhibition Lecture: Science and Spectacle in Galen's Rome
Claire Bubb
ISAW
This lecture will take place online; a Zoom link will be provided via email to registered participants.
Registration is required at https://www.eventbrite.com/e/exhibition-lecture-science-and-spectacle-in-galens-rome-registration-139694850057
This lecture is given in conjunction with ISAW's exhibition The Empire's Physician: Prosperity, Plague, and Healing in Ancient Rome. The exhibition is made possible by generous support from the Stavros Niarchos Foundation (SNF) and the Leon Levy Foundation. Additional support provided by Dr. Angelo D. Reppucci.
Claire Bubb received her A.B. in Classics: Greek and Latin from Brown University in 2006 and her Ph.D. in Classical Philology from Harvard University in 2014 with a dissertation considering the audience of Galen's On Anatomical Procedures. She was subsequently a Visiting Assistant Professor at ISAW and a Faculty Fellow at the NYU Department of Classics.
Her research interests center on medicine and the biological sciences in the Greco-Roman world, with a particular focus on Galen and Aristotle. She is now finishing a book entitled Dissection in Classical Antiquity: A Social and Medical History, which traces both the social history of the practice and the associated anatomical literature. Her current projects include two further monographs, one addressing the topic of digestion in Greek and Roman medical and philosophical thought, the other on the prevalence of scientific knowledge among laymen in the 1st and 2nd centuries A.D. She also focuses on Aristotle's biology, especially in relation to his views on the heart and vascular system, with articles on the subject appearing in Apeiron ('The Physiology of Phantasmata in Aristotle: Between Sensation and Digestion'), Classical Quarterly ('Blood Flow in Aristotle'), and Sudhoffs Archiv ('Hollows in the Heart: A Lexical Approach to Cardiac Anatomy in Aristotle'). Her other interests include the literature and society of the high Roman Empire, ancient education, animals, and the social history of science.
Recent talks include 'The Movement of Fluids in Hippocratic Places in Man and the Egyptian Vessel System' (Ancient Egyptian Scientific Literature in the Papyrus Carlsberg Collection, Copenhagen 2018), 'Galen: Text Production and Authority' (Society for Classical Studies Annual Meeting, Boston 2018), 'Blood Flow in Aristotle' (London Ancient Science Conference, London 2017), and 'Medicine and the Humanities from Ancient to Modern: The Varied Fortunes of Galen' (ISAW Faculty Lecture, 2017).
Recent teaching includes graduate seminars on Sciences and Intellectual Life in the Second Century AD (with Alexander Jones), Food and Diet in Greco-Roman Antiquity, and The Hippocratic Corpus. She also teaches The Body in the Ancient Mediterranean in the NYU College Core Curriculum on a recurrent basis.
Please check isaw.nyu.edu for event updates.
ISAW is committed to providing a positive and educational experience for all guests and participants who attend our public programming. We ask that all attendees follow the guidelines listed in our community standards policy.