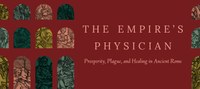 Exhibition Workshop: Forage and Botanical Drawing
Wendy Hollender
This workshop will take place online; a Zoom link will be provided via email to registered participants.
Registration is required at https://www.eventbrite.com/e/exhibition-workshop-forage-and-botanical-drawing-registration-153705109119 

This lecture is given in conjunction with ISAW's exhibition The Empire's Physician: Prosperity, Plague, and Healing in Ancient Rome. The exhibition is made possible by generous support from the Stavros Niarchos Foundation (SNF) and the Leon Levy Foundation. Additional support provided by Dr. Angelo D. Reppucci.
In conjunction with the exhibit "The Empire's Physician,"and the long tradition of using Botanical Illustration to identify plants for medicinals and eating, join Botanical Illustratror Wendy Hollender to forage and draw. In these two hour virtual hands on workshops study the basic techniques of botanical illustration using colored pencils to describe plants in detail.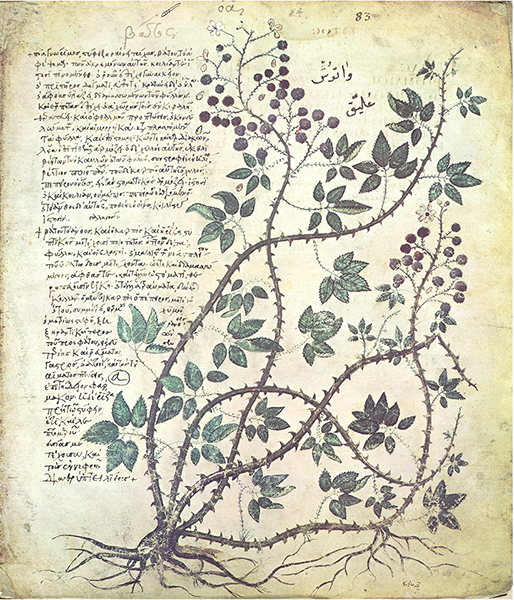 Text describing the uses of medicinal plants with an illustration of European bramble. From Dioscorides (1st century CE), De materia medica (Vienna Dioscorides; Byzantine, ca. 515 CE), fol. 83r. Österreichische Nationalbibliothek: Codex Vindobonensis Med. gr. 1. Photo: © ÖNB Vienna.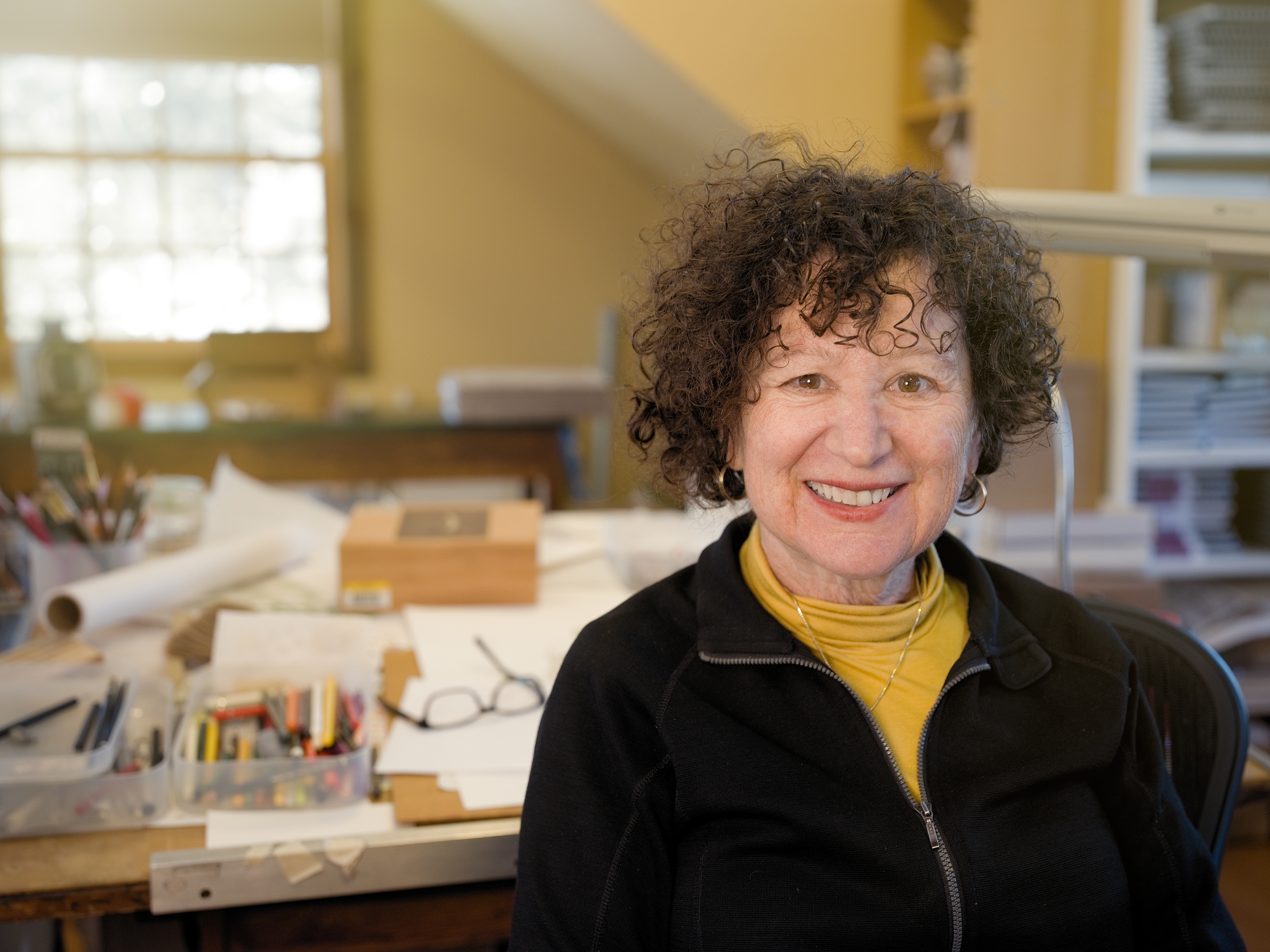 WENDY HOLLENDER is a botanical artist, author, and instructor and leads workshops in many varied locations. Hollender's illustrations have been published extensively throughout the world. She has exhibited in natural history museums and botanical institutes, including a solo exhibit at the US Botanic Garden.  She recently exhibited at the Lockwood Gallery in Woodstock, NY as part of the Woodstock School of Art instructors exhibition. Wendy has four books on Botanical Drawing and co published and illustrated, Foraging & Feasting: A Field Guide and Wild Food Cookbook by Dina Falconi.
Wendy graduated from the Rhode Island School of Design in 1976 and began a career in botanical illustration after completing a certificate at the New York Botanical Garden in 1998.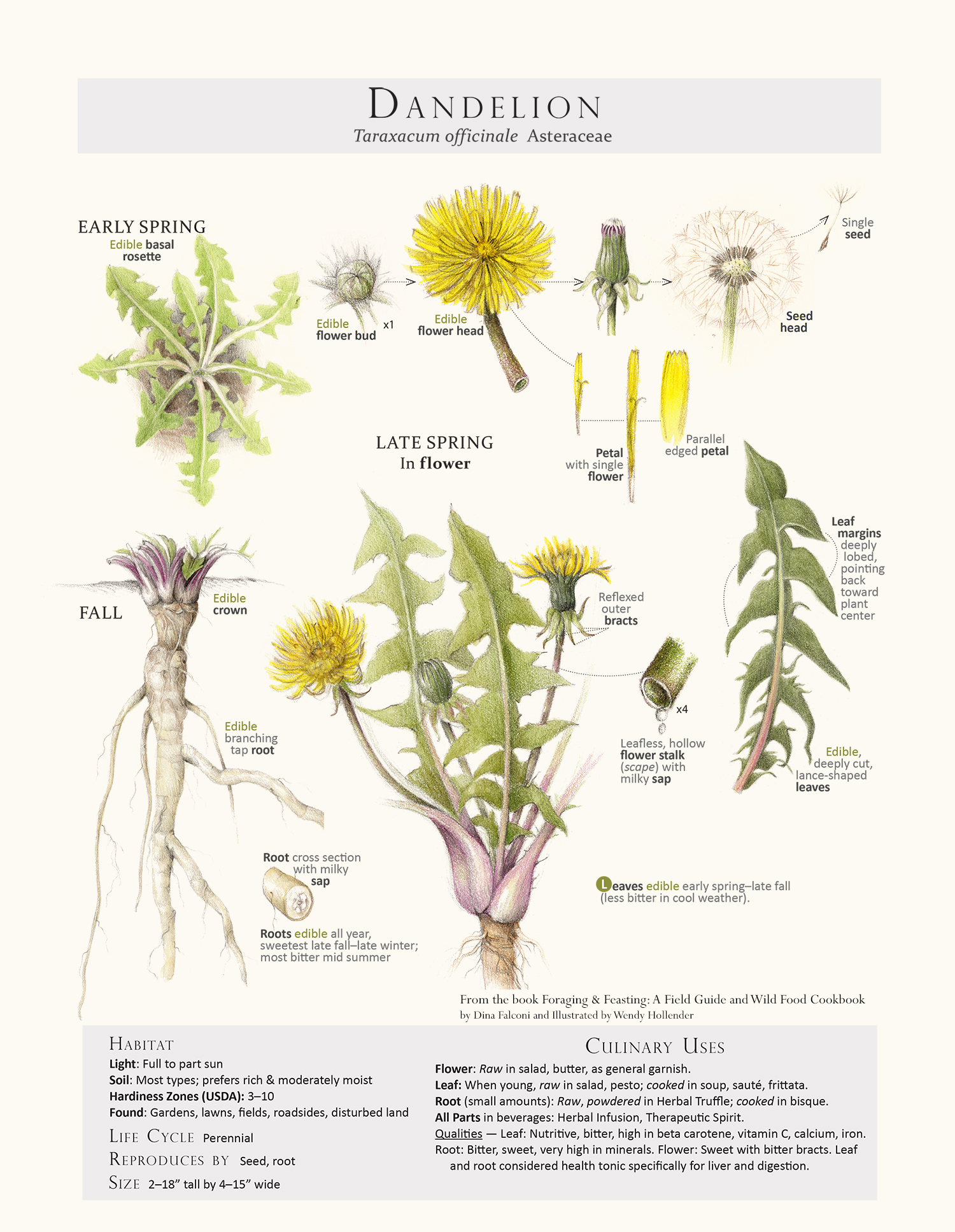 From the book Foraging and Feasting; A Field Guide and Wildfood Cookbook, written by Dina Falconi and illustrated by Wendy Hollender.
ARTISTS' STATEMENT
I first learned botanical-illustration techniques over twenty years ago. The moment I understood those techniques, a door opened for me, and I immediately fell in love with the practice of botanical drawing. Since that day, it feels like the plants are leading me along a path that I steadily follow.
When I study and draw from nature, I feel a presence of something that never fails to take my breath away. I "undress" the plant to study the mystery within, exploring plants and flowers on a micro level, almost the way an insect does.
Please check isaw.nyu.edu for event updates.
ISAW is committed to providing a positive and educational experience for all guests and participants who attend our public programming. We ask that all attendees follow the guidelines listed in our community standards policy.