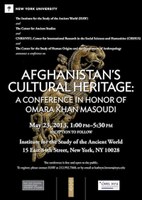 Afghanistan's Cultural Heritage: A Conference in Honor of Omara Khan Masoudi
Registration is now closed, we have reached capacity for this event.
PROGRAM
1:00pm   WELCOME
Alexander Jones (Professor of the History of the Exact Sciences in Antiquity, Acting Director of the Institute for the Study of the Ancient World, NYU)
Matthew Santirocco (Senior Vice-Provost, Professor of Classics, Angelo J. Ranieri Director of Ancient Studies, NYU)
Rita Wright (Professor of Anthropology, NYU)
1:25pm Mr. Masoudi and the Reconstruction of the Kabul Museum in Historical Perspective
Deborah Klimburg-Salter (University Professor, Institute of Art History, Univ. of Vienna; Coordinator, Kabul Museum Capacity Building Program)
1:50pm Paris and Afghan Heritage
Pierre Cambon (Senior Curator, the Musée Guimet, France)
2:15pm Reconstructing the Archaeology of Afghanistan and DAFA Involvement
Philippe Marquis (Director of DAFA, the French Archaeological Mission to Kabul)
2:40pm The Treasure of the National Museum
Susanne Annen (Senior Adviser to Afghanistan's Ministry of Information and Culture)
3:05pm Break
3:25pm The Bronze Age World of Afghanistan
Fred Hiebert (National Geographic Fellow, Washington, D.C.)
3:50pm Portraits in Miniature: Glyptic Art of Pre-Islamic Afghanistan (4th-8th Centuries CE)
Judith Lerner (Research Associate, Institute for the Study of the Ancient World)
4:15pm Medieval Marbles from Ghazni. Between pre-Islamic Traditions and Ghaznavid Art
Martina Rugiadi (Assistant Curator, Department of Islamic Art, Metropolitan Museum of Art)
4:40pm United States Public Diplomacy and Cultural Heritage Preservation in Afghanistan
Laura Tedesco (Cultural Heritage Program Officer, U.S. Department of State, Bureau of South and Central Asia Affairs)
5:05pm Afghanistan's Multiple Pasts. Reflections on the Courageous Work of Omara Khan Masoudi
Philip Kohl (Professor of Anthropology and Kathryn W. Davis Professor of Slavic Studies, Wellesley College)
5:30pm Concluding Remarks - Sören Stark (Assistant Professor of Central Asian Art and Archaeology, Institute for the Study of the Ancient World)
Registration required to kathryn.lawson@nyu.edu or 212.992.7860.
There will be a reception folowing the event.
This is a public event.
To RSVP, please email kathryn.lawson@nyu.edu.