Building Overview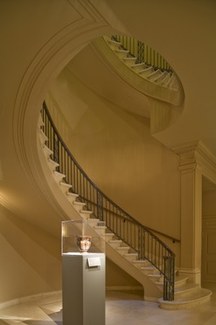 ISAW is housed in a historic six-story limestone townhouse at 15 East 84th Street. Built in 1899 for Adam Lanfear Norrie, the house was extensively altered in 1928 and the present Italian Renaissance façade and interiors bear little resemblance to the original house. After its purchase by the Leon Levy Foundation in 2004, the house was transformed into a suite of offices, study rooms, galleries, and a library, with careful attention given to retaining as much of its original architectural detail as possible.
To rehabilitate the building, the Foundation hired Selldorf Architects, a highly respected architecture and design firm, led by Annabelle Selldorf, whose renovation work includes the transformation of a 1914 mansion located at East 86th Street and Fifth Avenue into the Neue Galerie, a museum for German and Austrian art. Selldorf's design provides space for the graduate research and Ph.D. degree-granting center and for an extensive program of colloquia, lectures, and exhibitions that are open to the public. Respectful of the historic fabric of the building, Selldorf Architects restored original details when possible. The wood paneled library on the second floor was restored and is now being used as a common room and sometime lecture hall. The main staircase was extended to the sixth floor. A modern library was designed for the Institute's extensive collection of books and archives about the ancient world. Constructed primarily of steel and glass, and located in a three-story atrium in the north part of the building, the library offers naturally lit study spaces for scholars and provides access to open stacks.
In 2010, the Foundation hired Richard Rosen Interior Design to build out the previously empty sixth floor. This modern, well-lit space now houses the ISAW Exhibitions and Digital Programs teams, plus two daylight conference/seminar rooms and storage space.