Save the Date! New Exhibition Opens October 8
Alexander the Great conquered Egypt in 332 BCE. For the next 300 years, under the rule of the Macedonian Ptolemies, Greek and Egyptian cultures coexisted, with the royal house defined by intrigue, intermarriage, and a skillful manipulation of Greek and Egyptian iconographic motifs for political purposes. ISAW's fall exhibition illuminates this royal family's canny use of cultural tropes to consolidate power and inspire loyalty among a mixed population. Come to ISAW's galleries and discover royal portraits both large and small, luxury goods, and a wonderful sampling of papyri that document the daily lives of individuals who lived during this complex period in Egyptian history.
by

Kristen Soule
—
2014-07-09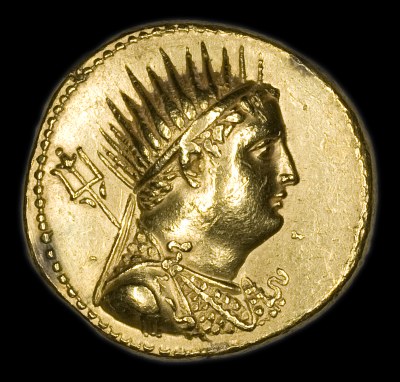 Octadrachm. Obverse: Bust of Ptolemy III. Gold, Minted in Alexandria. 221-205 BCE. Gift of Martin A. Ryerson. Courtesy of the Art Institute of Chicago.
When the Greeks Ruled Egypt: From Alexander the Great to Cleopatra examines the interactions between Greek and Egyptian cultures during the nearly 300-year period when Egypt was under Greek rule. With some 150 objects, the exhibition reveals the many and diverse ways in which cultural tropes were strategically used by Egypt's Ptolemaic rulers as a means of asserting power and provoking loyalty among the conquered population. In the process, it also reveals the intense familial intrigue and jockeying for position that characterized the Ptolemies as they sought to maintain their position.
In exploring the ways in which two long-lasting, very different cultural traditions were brought together, the exhibition shines a light on the fluidity of the very idea of specific cultural identity. Indeed, When the Greeks Ruled Egypt has great contemporary resonance, reminding us that the use of culture—and family—for political ends is hardly unique to our era.
The original presentation of this exhibition was organized by the Art Institute of Chicago with support generously provided by the Jaharis Family Foundation, Inc. The ISAW version was made possible by the support of the David Berg Foundation, Mary and Michael Jaharis, the Joseph S. and Diane H. Steinberg Charitable Trust, and the Leon Levy Foundation. Additional funding was provided by Magda Saleh and Jack Josephson.  The Brooklyn Museum graciously provided special loans.