"Romance and Reason" in the New York Review of Books!
James Romm's review of Romance and Reason: Islamic Transformations of the Classical Past in the New York Review of Books highlights the exhibition's emphasis on the convergence of Islamic and Western thought.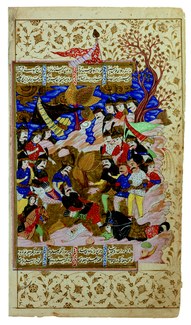 Romm writes, "Iskandar—as Alexander (the Great) came to be known in Arabic and Persian texts—can be seen visiting the holy Kaaba stone in Mecca, as though performing the hajj. That image foregrounds the show's principal theme, the startling continuities between the ancient Greek world and medieval and early modern Islam. Alexander's journey from Macedonian monarch to pious Muslim sage can be traced in the larger of the show's two rooms, where richly illustrated copies of the Koran and the Persian poems Shahnameh ("Book of Kings") and Khamsa are displayed beside Greco-Roman statuettes of the conqueror himself."
The exhibition's second gallery contains "scientific, astrological, and medical treatises, illustrated in a wide variety of styles. Here, the influence on the medieval Islamic world of Greek thinkers like Dioscorides, Galen, and Ptolemy is on full display." 
Khamsa. Iskandar Attends the Dying Dara
Author: Nizami Ganjavi (1141–1209); Copyist: Unknown; Language: Persian
Ink, opaque watercolor, and gold on paper
Folio: H. 25 cm; W. 15 cm
Iran, 17th century
Brooklyn Museum, Bequest of Frank L. Babbott: 34.5996
(c) Brooklyn Museum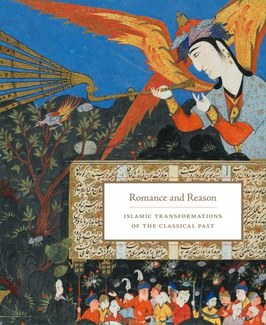 The show is accompanied by an exhibition catalogue, Romance and Reason, distributed by Princeton University Press (a chapter is available online here). The lavishly illustrated catalogue explores the breadth and depth of Islamic engagement with ancient Greek thought. Drawing on manuscripts and artifacts from the collections of the National Library of Israel and prominent American institutions, the catalogue's essays focus on the portrayal of Alexander the Great as ideal ruler, mystic, lover, and philosopher in Persian poetry and art, and how Islamic medicine, philosophy, and science contended with and developed the classical tradition.