Prof Antonis Kotsonas Appointed the AAIA 2018 Visiting Professor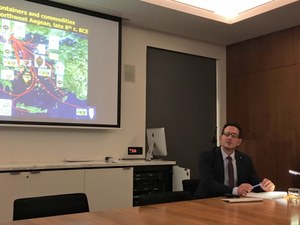 Each year the Australian Archaeological Institute at Athens brings to Australia an academic who undertakes a lecture tour to all Institutional members across the country. From its foundation in 1987, the AAIA Visiting Professorship has been held by many distinguished archaeologists of ancient Greece and Rome. I am deeply honored to take up this role for 2018. I will be touring Australia from August 6 to September 14, visiting 10 different cities.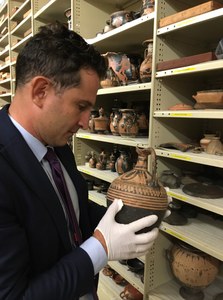 The tour involves giving a total of 26 lectures and seminars on 8 different topics, addressed to specialist and non-specialist audiences. I look forward to visiting Australia and learning more about this amazing country and interacting with scholars, university and school students, members of the AAIA, and the wider public.
Antonis Kotsonas is about halfway through his tour and will deliver the following upcoming lectures/seminars:
Brisbane (The University of Queensland) - Thursday, August 23, 6:00pm: Homer and the Archaeology of Crete
Canberra (The Australian National University and The Canberra Friends of the AAIA @ The Hellenic Club) - Wednesday, August 29, 8:00pm: The Cretan Labyrinth: Monument and Memory from Prehistory to the Present
Hobart (The University of Tasmania) - Thursday, August 30, 6:00pm: The Discovery of Knossos by the Cretan Antiquarian Minos Kalokairinos
Melbourne (The University of Melbourne, La Trobe University and the Classical
Association of Victoria @ The University of Melbourne) - Wednesday, September 5, 6:30pm: Homer and the Archaeology of Crete
Adelaide (The University of Adelaide & SA Friends of the AAIA @ The University of Adelaide) - Tuesday, September 11, 7:00pm: Greece and the Near East in the Early 1st Millennium BCE
Perth (The University of Western Australia) - Thursday, September 13, 6:00pm: The Cretan Labyrinth: Monument and Memory from Prehistory to the Present


Further information on each event is available at: http://sydney.edu.au/arts/aaia/research/visitors.shtml
Image 1: Antonis Kotsonas delivering a seminar on Containers, Commodities and Greek Colonization in the Mediterranean of the 8th century BCE to postgraduate students and staff at the AAIA (Sydney, Australia)
Image 2: Behind the Scenes: Antonis Kotsonas in the Nicholson Museum Stores (Sydney, Australia)
Images courtesy of the Australian Archaeological Institute in Athens