Founder Shelby White Receives the Carnegie Medal of Philanthropy
ISAW's Founder Shelby White has been named as one of nine exceptional philanthropists to receive the 2017 Carnegie Medal of Philanthropy. 
"The recipients of the 2017 Carnegie Medal of Philanthropy were selected for their distinguished and longstanding contributions to the public good," said Vartan Gregorian, president of Carnegie Corporation of New York. "The medal reflects Andrew Carnegie's enduring legacy of philanthropy and is rooted in two core principles. First: with wealth comes responsibility. Second: individuals, whether guided by religious, civic, humanistic, or democratic aspirations, have the transformative power to use wealth for the betterment of humankind."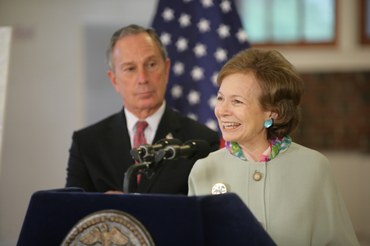 Philanthropy was a critical component in the upbringing of Shelby White and her late husband, Leon Levy. Throughout their marriage, they shared enthusiasm for matters ranging from human rights and civil liberties to neuroscience, economics and the humanities.  When her husband died in 2003, Ms. White established the Leon Levy Foundation to continue the philanthropic endeavors they initiated. The Foundation supports brain research, the study of ancient civilizations, historic preservation, and arts and culture. Ms. White serves on the boards of The Metropolitan Museum of Art, The Institute for Advanced Study, The New York Botanical Garden, New York University, Bard Graduate Center, and The Writers Room. She is Chairman of the American Friends of the Israel Antiquities Authority, and the Shelby White and Leon Levy Program for Archaeological Publications at Harvard University.