Founder Shelby White Received the Carnegie Medal of Philanthropy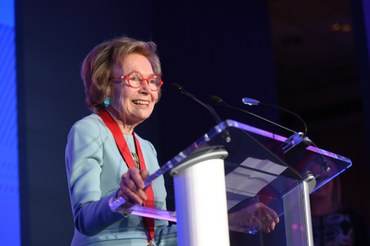 Shelby White was honored as one of the nine exceptional philanthropists presented with the Carnegie Medal of Philanthropy by the international family of Carnegie institutions during an awards ceremony at The New York Public Library on October 3rd.
Ms. White was also interviewed in ISAW's Oak Library for a short film (below) in which she explores how everyone can cultivate a culture of giving. Her extraordinary philanthropic accomplishments extend across as wide a range as Andrew Carnegie's own philanthropy. Ms. White's interests include education, libraries, museums, archaeology, parks, science, and the arts and humanities, and the multifaceted breadth of her giving is ever evolving. Visit Shelby White's profile on the Carnegie Medal of Philanthropy's website for more information and a film clip of her acceptance speech.