"...circle through New York" Brings Felix Gonzalez-Torres Sculpture to ISAW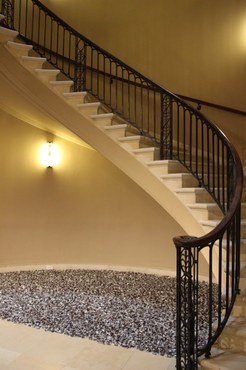 For the month of July, the Institute for the Study of the Ancient World will present Untitled (Public Opinion) by Felix Gonzalez-Torres (1957–1996). Gonzalez-Torres, a Cuban-born American artist, is best known for his installations using everyday objects—candy, strings of light, paper, beads, clocks—that draw upon a minimalist visual vocabulary and invite the audience to participate in interpretation. Untitled (Public Opinion), an artwork from the Guggenheim's permanent collection, will be presented at ISAW with reference to conceptions of the polis in antiquity and invite viewers to consider how notions of community have changed over time.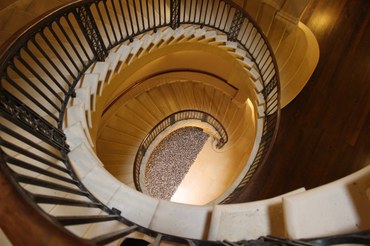 This site-specific installation at the base of ISAW's spiral staircase is the latest presentation of . . . circle through New York, a project commissioned through the Solomon R. Guggenheim Museum's Social Practice Art Initiative. Bringing together communities often separated by economic, geographic or circumstantial boundaries, artists Lenka Clayton and Jon Rubin invited six public venues to participate in a system of social and material exchange.
ISAW faculty, students, staff, and visitors are invited to take candy, as much or as little as one wishes, and watch the shape of the installation evolve over the course of the month.
For more information about the project, and to learn more about our partners in . . . circle through New York, please visit http://www.circlethroughnewyork.com.